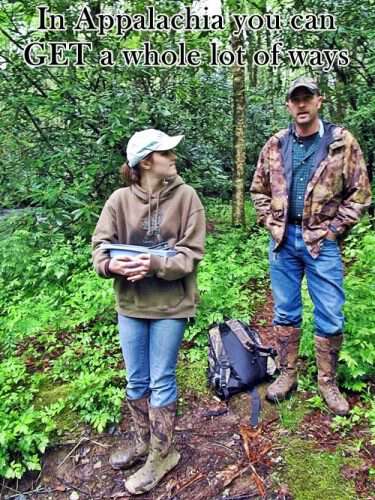 In Appalachia we use the word get in a variety of ways like:
using the phrase get about as a verb meaning to move around. "He must be close to 90 year old but I swear he gets about better than I do."
the verb phrase get to meaning to start. "I better get to going or I'll be late." or "It got to where every time I seen him I had to give him some money."
the verb phrase get up is used meaning to gather together. "Granny said for us to get up some wood and water before the snow starts."
get can also mean to move out of the way or leave the area. "I don't know who that dog belongs to but I've been telling it to get all morning."
the phrase get up and go is typically used to describe a lack of energy. "I wanted to get a lot done today but my get up and go has gone."
I took a quick look in my Dictionary of Smoky Mountain English and found some more get uses.
get: to hunt or kill an animal (this one is common here)
get a track: to find the track of an animal
get down: to give birth
get easy: to obtain relief from medicine (I've heard Pap say this one and Granny too)
get fair: for the weather to clear up
get grown: to grow up (I've heard this one all my life, just didn't think of it)
get killed with their shoes on: a sudden violent death
get obliged: to have an obligation to
get oneself a cook: get married
get one's peas thrashed: to receive a beating
get shed of: get rid of (very common here)
get to be: to become
get up backwards: to be out of sorts
Leave a comment and add any other get uses you can think of to the list or let me know which ones you're not familiar with.
Tipper
Subscribe for FREE and get a daily dose of Appalachia in your inbox