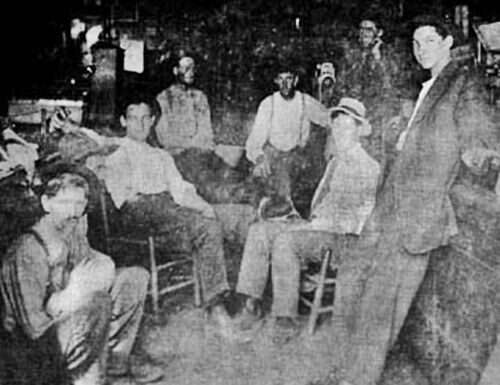 Inside Fred Ghormley's Store, Robbinsville NC – Photo courtesy of Graham County Centennial Book
You all seemed to enjoy Wanda Stalcup's story of how Hanging Dog got it's name I thought I'd share another place name story from Wanda this week.
"Burnt Rock Ridge is located in Graham County, a strange fire occurred there one night while some men were traveling through the Santeetlah area. It was getting late and the men decided to spend the night. They had a few spirituous drinks and kindled their fire and soon fell asleep. During the night they awoke and sprang up to find their fire was spreading to great proportion and was behaving strangely. It seemed to be burning into the earth and already burnt a large hole so the men were rushing to leave the area. This was a strange fire and it continued to burn until the entire area was filled with smoke. The fire had a strange odor as if rags were burning and it continued for weeks. With all the rumblings and explosions it seemed the entire mountain was being consumed. The people of Santeetlah became distressed by the fire. Men ceased working and the minister was called. People gathered for prayer, fearing it was the end of the world. The area was dark and the animals acted strange and the chickens remained on their roost. After a few weeks the fire subsided and a strong wind swept the terrain and then the sun began to shine again. And there was a great rejoicing among the people. There was no sign of what started the fire or why it stopped. No later investigation has revealed the nature of the fire. It remains one of the ghost-like mysteries of the mountains but ever since it has been known as Burnt Rock Ridge."
————–
I can just imagine how afraid folks were of the fire and I bet it was a story often told in places like Ghormely's store.
Wanda is the Director of the Cherokee County Historical Museum. She knows more about the history of this area than anybody I know. A few years back she wrote a book "How I Saw Cherokee County". The book is full of wonderful stories, customs, traditions, and language. If you're ever in Murphy you can pick up one of her books at the museum.
Tipper
Subscribe for FREE and get a daily dose of Appalachia in your inbox