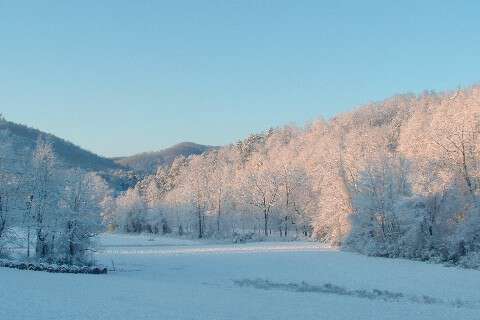 Like much of the country Western NC has had it's fair share of snow this winter. For those of you who live farther north-all the hoopla about snow down south seems silly I'm sure-I admit, we do get excited over the white stuff.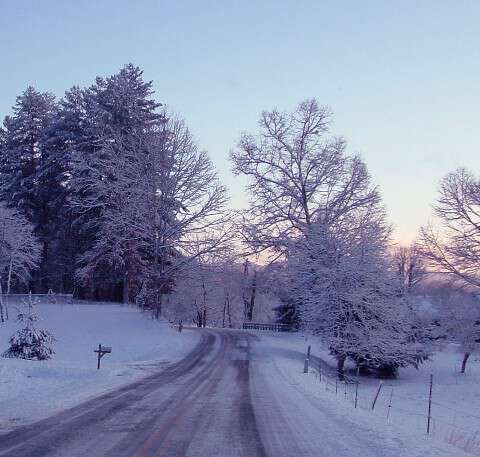 As we headed out to do a show, The Sweetheart Festival, early Saturday morning-this is what the roads looked like-I still don't want to think about the ride down the driveway. Lets just say we've been walking in and out since that morning.
After a long day of talking to folks about the Blind Pig-and selling a little folkart, I was ready to head home-even if I had to hike a bit to get there.
Once I reached home-I found Spring and Summer were waiting on me. My garden seeds had arrived. This year the kind folks over at Hometown Seeds are going to sponsor the Blind Pig garden in addition to, round 2 of the Blind Pig & The Acorn Sign Test.
Hometown Seeds specializes in providing quality seeds to home gardeners. They offer vegetable, flower and herb seeds-and guarantee their seeds to be top notch quality, true to type, shipped right, and to be great producers. Hometown Seeds does not sell GMO-genetically engineered seeds-to their customers as they do not believe enough research has been done on the subject.
Want to play along with the Blind Pig & The Acorn's Sign Test this year? Basically-it goes like this:  I mail you some seeds-you plant a few on the best day according to the signs-and you plant the others on the worst day according to the signs-informing me through out the season how each 'days' plants are doing. Last year I got a late start and used corn-which is kinda hard to grow in itself. Martina, Nancy, WKF, and Helen are the only ones who made it to the end. The rest of us got attacked by either rain or chipmunks.
For our test subject this year, Hometown Seeds has provided me with yellow crook neck squash seeds.
If you haven't picked up your seeds for the coming summer-jump over to Hometown Seeds and look around-I think you'll be glad you did. I found their Survival Seeds Packet especially interesting.
Tipper