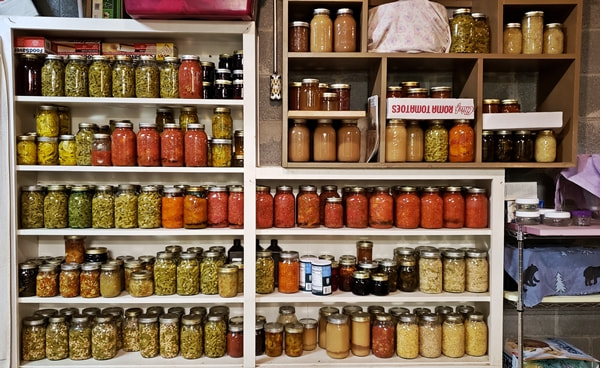 Our summer bounty of jars
Putting up food for this year is pretty much over, and I'm always kind of glad the busy work of canning, freezing, fermenting, and pickling is over till next year.
I still have a few pumpkins, candyroasters, and apples to do something with, but the heavy lifting is over.
Even though putting up food is a tremendous amount of work looking at all the goodness sitting on my canning shelves and on my freezer shelves is always worth the effort, not to mention getting to eat all of it.
Thinking of writing this post I took a quick look in a few of my Appalachian dictionaries for the term putting up food. It wasn't in any of them.
I did a quick google and turned up one of my own posts. Digging a little further I did find a quote about putting up food on the Northern Woodlands website.
---
"Putting food up" is a curious expression. Originating back in the 1700s, this idiom means "preserving and storing food" – and that we certainly do. But "up" is hardly a useful image since we usually descend steep, awkward stairs into dark cellars to place our jars of preserved food on shelves.
"Up," as a food-storage concept, applies more to the deliberate and creative methods used by gray and red squirrels. Yes, they will store food down low: the gray squirrel (Sciurus carolinensis) buries its food beneath the soil and duff in shallow excavations, and the red squirrel (Tamiasciurus hudsonicus) stores thousands of cones in ground-level middens. However, to our delight, squirrels also love to store food in high places where we can see them in action.
—Tracking Tips: Putting Food Up
---
Although my steps aren't awkward, I do descend to the basement to store my canning jars and my freezer items. After reading the quote all I could think about was The Deer Hunter teasing me about saying the phrase slide up.
My family has always used slide up like this: "Be careful I just mopped and you might slide up." The Deer Hunter has always come back with "How do you slide up? It's impossible. You slide down."
Lucky for me I can always ask him "Well how do you go "up and under something" because he uses that one all the time 🙂
Tipper
Subscribe for FREE and get a daily dose of Appalachia in your inbox