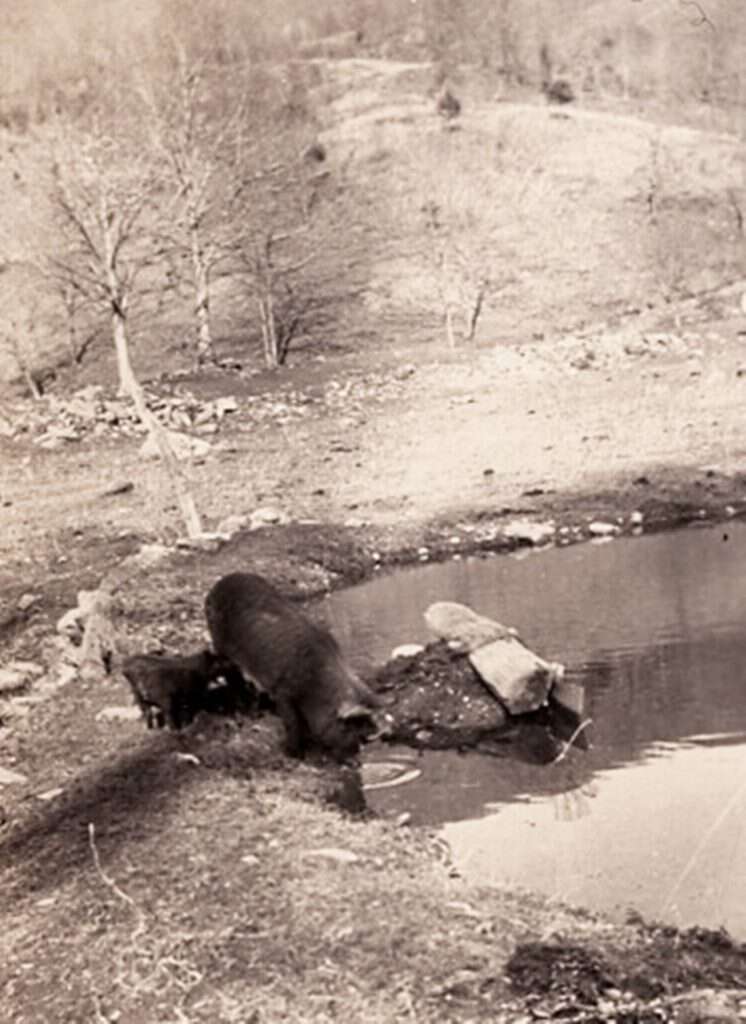 One of my favorite cold sayings is cold enough to kill hogs or the variation cold enough to hang meat. Few of us actually kill hogs these days, but the meaning behind the saying is still fresh enough in our past to keep the phrase circulating throughout Appalachia.
Before meat was readily available at the local grocery store pork was the staple meat for most mountain families.
Before the chestnut blight most folks in Appalachia let their hogs free range and forage for their own food. After the blight, and as the land became more populated, folks kept their hogs closer to home in pens.
In my area of Appalachia folks waited for cold weather to arrive before slaughtering their hogs. I've read folks farther south used blocks of ice to aide in their hog killing process since a stretch of cold weather couldn't be guaranteed as easily as it could be in the mountains.
Pap's father, my Papaw Wade, was known as a "good hog butcher" around our area. He was called to various homes and farms throughout the hog killing season. Some folks paid money for his services, but most paid by giving him part of the meat, and those who couldn't afford to did neither.
Pap shared some of his hog slaughtering memories with me:
They waited until the temperature was under 40 degrees for 4 or 5 days. He said it was okay if it warmed up some during the day, but the nights needed to be cold.
Usually the hogs were penned up in a small area and fed only corn and water for about two weeks before they were slaughtered. This ensured the lard and meat would have a good taste.
They tried to go by the signs, but sometimes you had to slaughter when you could. Pap said if you were able to follow the signs it made for better meat and lard.
They had a barrel buried in the ground at a 45 degree angle. Boiling water was poured into the barrel and then the whole hog was lowered into the water. This made the hair easier to scrape off as well as cleaned off the hog.
Pap's family salt cured and sugar cured most all of their pork. It was hung by wire in the smokehouse. Keeping it on a wire kept the mice off it-eek! They canned backbones, ribs, and sausage that was made from the scraps. They also used the ears, tongue, and parts of the head to make souse meat which is a ground up meat mixture. Pap said the souse meat was eaten up pretty quickly, never lasting more than a week or so.
Typically the women begin rendering the lard as the men were still butchering.
The Deer Hunter has always wanted to have hogs and slaughter them in the fall of the year, but we've never managed to accomplish it. Both our families had hogs as a source of meat when we were growing up and we each have memories of the hogs…totally different memories.
One year The Deer Hunter's Papaw James bought two hogs to fatten up and slaughter for meat. From the beginning The Deer Hunter was warned not to become attached to them. From the beginning-he didn't heed the warning. Ever chance he got he headed for the pig lot. Feeding the two pigs and petting them. In short order those hogs became his best friends.
I suppose the grown ups knew he would be upset when slaughtering day arrived, but after all they had warned him.
On the big day The Deer Hunter had a plan to stop them. He gathered a good supply of rocks and hid within easy throwing distance. As the men walked down to the lot he began his rock attack. His plan failed and he'll tell you it was without a doubt the worst whipping he ever got.
Pap and Granny never kept hogs, but I remember at some point someone in the holler did. Maybe it was my Papaw Wade or maybe an uncle. Whoever had them, kept them in a hog lot down below my Uncle Henry's. One of my funniest memories from childhood is about those hogs.
My cousin, Maria, and I were walking along the road that ran beside the pig lot. We realized the hogs were out at about the same time the two big hogs noticed us. We took off running towards home with the two pigs in hot pursuit. I think we knew they wouldn't actually hurt us, but there was much screaming and laughing during the chase and a lot of teasing for two silly girls who ran from hogs afterwards.
To read more about the tradition of hog killing day in Appalachia jump over and read this guest post from the archives written by Keith Jones – Hog Killing Day.
Tipper