Today's guest post was written by David Templeton.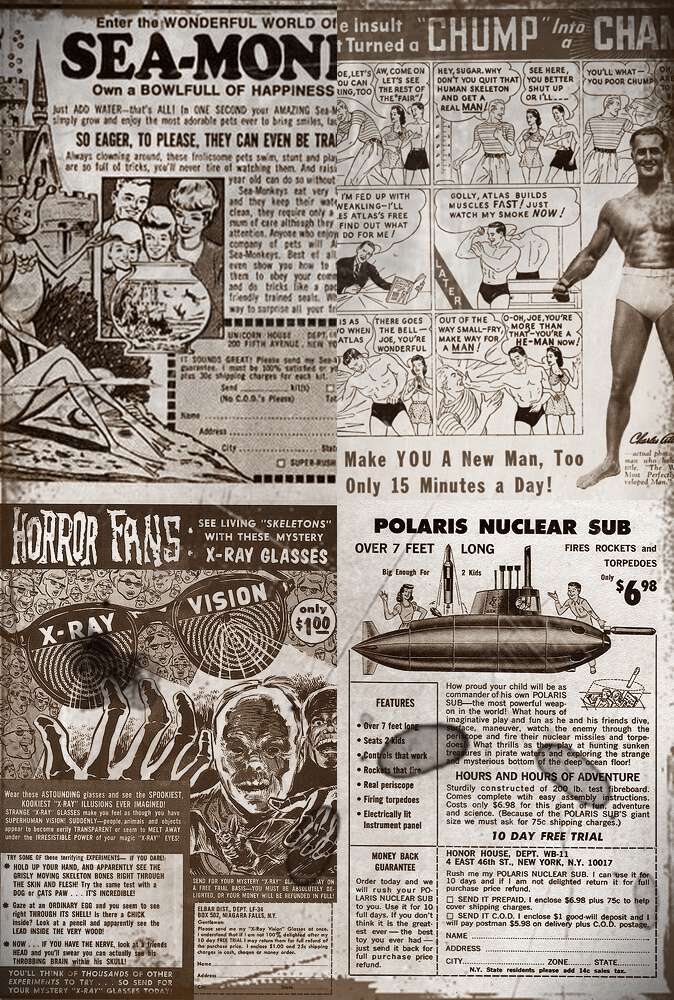 Hello, Andy! ….… Hello, Davo! … Le'me outta here!. Le'me outta here!
By David Templeton
Like most kids in the 1950s, I dreamed about getting every gizmo advertised in the back pages of just about every funny book I picked up. What kid didn't? Think of it: A Polaris submarine of my very own; six feet long and room for a bunch of kids inside it. Who wouldn't wish they had that little HIT miniature spy camera, not that there were that many miniature spies around. How about Sea Monkeys depicted as little human or primate-looking creatures? How do Chia pets grow that green fur?
How about those X-Ray specs advertised in comic books? The ad intimated that with those glasses maybe you could see through clothes and flesh all the way to a body's skeleton or the bones in your hand? Some mischievous guys probably had even more prurient fantasies.
For just twelve cents you could become a regular Charles Atlas. I wasn't going to be one of those skinny wimps, sand kicked in the face at the beach, never getting the girl, and getting bullied by guys who themselves were probably Charles Atlas graduates.
I could get the money. Sometimes I went up and down the road finding pop bottles (they were commonly called "dope bottles" back in 1950 Kingsport.) and taking them to the store and getting the deposit back and I could eventually garner enough from the 2-cents-each deposit refunds and save up till I could buy one of those comic book fantasies. If I helped my brother Ed with his GRIT newspaper sales, sometimes he would give me a quarter. If I worked for Missus Christian across the river pulling weeds out of her tobacco plants I could earn a whole half-dollar a day.
So with a little ambition I could get the money.
The hardest thing was to decide which thing to buy. I wanted just about every one of those gags and gizmos. Well, no, not really. It wasn't a hard decision. I always had only one real, continuing dream … one wish … one fantasy: To be able to throw my voice.
Remember the picture in the comic book ad? A man walking around kinda slumped over, lugging big box on his back and apparently a voice coming from somewhere inside the box saying "Le'me outta here!! Le'me outa here!!"
That would be the coolest trick, the funniest trick I could ever play: To be able to throw my voice, like it was coming from that box, or the next room, or from inside an outside toilet.  "Help! Le'me outta here! You know, like those, uh, what do you call them? Ventricles … or something like that … ventriloquist, that's it; like they do.
You could order instructions for twenty-five cents "Learn How to Throw Your Voice. Become a Ventriloquist". The better ones were a dollar, twenty-five and with those you got pictures and instructions but you also got the main ingredient, the central device that would work to throw your voice when you placed it in your mouth on your tongue and sqwenched up your voice and talked like you were somewhere else. A little round, paper disc, about the size of a nickel, with a little metal clip or something on it, and that's what you would put on your tongue to cause your voice to be thrown as you spoke but tried not to move your lips.
So, I sent off my dollar, twenty-five in coins along with a SASE and ordered me a ventriloquism kit. Excited … Didn't tell nobody. I wanted to puzzle people when it came; puzzle them as to where that voice was coming from once I got the hang of ventriloquism and started throwing my voice. It was hard to keep from laughing when I thought about it.
Ran to the mailbox every day. One day it came. I didn't rip it open and put it in my mouth right then. I already knew how it worked. I got me a big pasteboard box and went out to the front yard and waited for people to walk by.
I put the voice-throwing disc in my mouth, put the box on my shoulders and when people walked by I would walk up and down and say "Help! Le'me outta here! Le'me outta here!  Saying it through the special disc, you know.
And, my buddies would walk by and I would say, "Help! Help! Le'me outta here!" And, they'd say, "Huh? What're you talking about?" And I'd say, "Don't that sound like somebody's in this box?" And, they'd say, "No, Just sounds like you talking!" I could tell they were determined not to let me have my fun nor admit that I could throw my voice. But I put the box away and went in the house and began to practice in front of the mirror, and learn how to talk without moving my lips and how to disguise my normal talking voice.
My little sister had got a "Raggedy Ann" doll and also a matching "Raggedy Andy" doll for Christmas. Remember those? Cloth dolls. And, hers were big dolls, come up almost to your knee.
We didn't have a TV yet, didn't get one till about 1955. We listened to the radio in the evenings, Mom sewed our clothes, Dad nodded from a day's work, and my brothers and sisters just played around the house. Maybe did homework.
So, that evening, while we all sat around the living room, I got out Raggedy Andy and sat down with him on my knee and I slipped the magic disc onto my tongue, and I wiggled Raggedy Andy and I said "Hello, Andy!" and then I said with my disguised voice "Hello, Davo!" Not real loud but kinda sharply … Hello, Davo!!
And, Mom said, "David, Honey, you need to be quiet; Patty's (my sister) trying to study."
And, I'd shake Raggedy Andy again and say, "Hello, Andy!" and, with my (I thought) disguised voice, "Hello, Davo! Hello, Davo!"
"Mom, would you make David shut up!" Patty yelled.
"Be still, David", scolded Mom.
"That's not me.  That's Andy. Don't that sound like Andy … like Andy's talking?"
"It sounds like you, being a pest!" scolded my sister.
That night, next day, in the house, out in the yard in front of my buddies, nobody could be made to think that voice was coming from anywhere but me. Not from the box, not from Andy, not from the outhouse; just me sounding dumb.
After weeks of trying to get the hang of ventriloquism, the art of throwing my voice, I finally threw the magic disc in my dresser drawer with the miniature camera, and the X-Ray glasses, and the Charlie Atlas lessons, and finally conceded that I had been hoodwinked by another page of funny book gimmickry.
But …
I still think it's just a matter of practice. Where is that magic disc?
Hello, Andy!  Hello, Davo! Le'me outa here! Le'me outa here!
———————
I hope you enjoyed David's post as much as I did! While the gizmos I remember are slightly different, I do remember being a kid and wondering if any of those things would really work.
Tipper