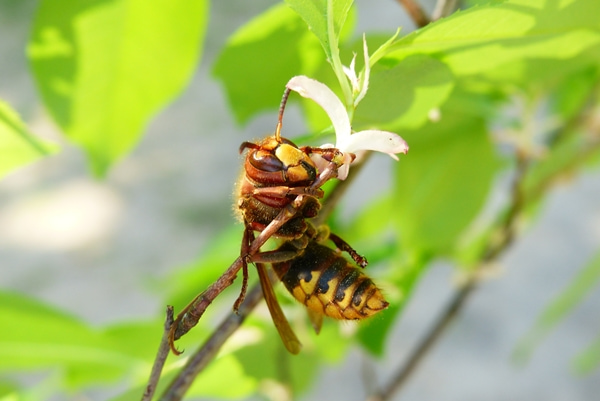 About a week ago Don Casada sent me an email to ask if I'd seen any yellow jackets this year.
I hadn't really noticed their absence until Don sent me the email.
Once I started thinking about it I realized I hadn't seen any all summer.
For the past few years we've had a pesky nest of yellow jackets just outside the backdoor. They somehow wormed their way into the block foundation. Every time you'd go down the steps off the deck on that side they'd start humming around. One year you could even hear them in their nest from the basement. I guess they were working on filling up the inside of the blocks.
The Deer Hunter always managed to run them out only to have them return the following year. But no yellow jackets this year. Not one.
Last weekend I was drying some apples and thought "This will be the real test. I'll throw my apple peelings on the compost pile and go back later to see if there's any yellow jackets."
When I went back to check late in the evening there wasn't one bee. Not one.
The reason Don sent the email in the first place is that he's noticed the absence of yellow jackets in Bryson City. Don takes care of a large cemetery and typically has several run-ins with yellow jackets over the course of the summer as he works. Not this year. Don also noticed there were no bothersome yellow jackets on a recent picnic he went on.
He also sent the email to his brother Jim, who reported the same occurrence of missing yellow jackets in South Carolina where he lives.
Several people have thrown around theories about what could have caused the disappearance. Was it the late cold snap we had? Could it be all the wet weather we had? Pesticides are always a worry where bees are concerned, but there's none in use here or at Jim and Don's and certainly not in the National Park where the picnic took place.
What about where you live have you seen any yellow jackets this summer? I have seen honey bees, bumble bees and waspers, but no yellow jackets. I can't really recall seeing any hornets either.
Tipper
Subscribe for FREE and get a daily dose of Appalachia in your inbox