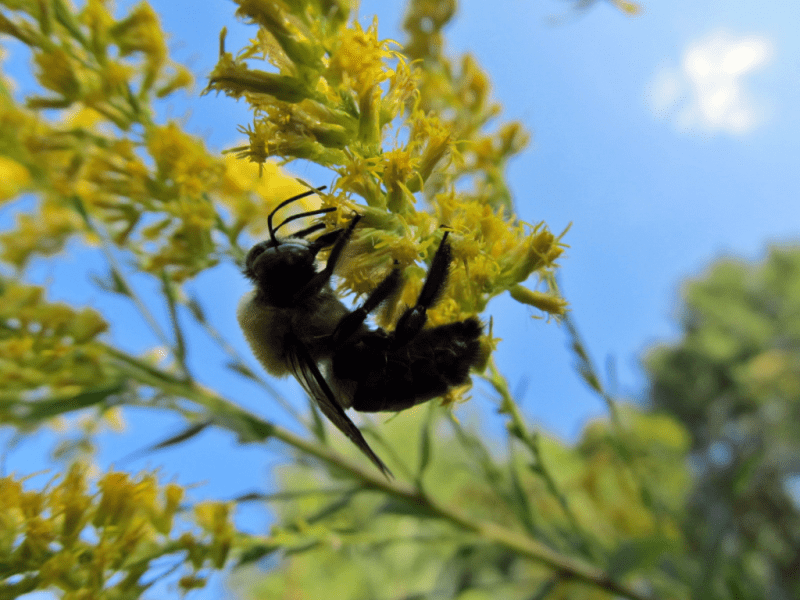 Goldenrod according to Blind Pig Readers:
Carol: It's been a good year for Golden Rod around here. My honeybees are enjoying it. Packing it in for the winter.
Miss Cindy: This time of year my mother used to always quote a poem…."The Goldenrod is yellow, the leaves are turning brown, the trees in the apple orchard with fruit are bending down"….and that's all I remember of it. I always notice the goldenrod, how can you not notice it this time of year when it blankets the fields. I know frost will soon be with us and we'll have to rake leaves.
Ron Banks: I use to help an aunt in-law gather Goldenrod so she could make an herbal tea from it. I don't remember exactly what is was used for but I think it was for stomach problems and that she would swear by it. If you had an ailment or affliction she had a remedy for it. She was a true Appalachian woman who I admired tremendously. I always think of her when the Goldenrod blooms and what a treasure she was to the people who knew and loved her. R.I.P Punkin!
Tom: Goldenrod is certainly in abundance here in My Old Kentucky home.
B.Ruth: Tipper, Beautiful photo….I think that Goldenrod is the Fall example of Springs (golden bells) Forsythia. There seems to be a contest of yellows…I believe Goldenrod is winning…don't you? When we were out gathering the "Scuppernongs" last Sunday afternoon, we passed a field, slightly on a hillside. It was a wash of yellow. Actually very breathtaking..not in an allergy sense either…By the time I yelled at the driver, grabbed my camera, we were too far down the Interstate to turn around…I am so glad that I have the picture in my minds eye…such a blessing it was.
Kay Keen: My mother, said when the goldenrod blooms winter is just around the corner.
Hope you enjoyed the Goldenrod comments as much as I did!
Tipper