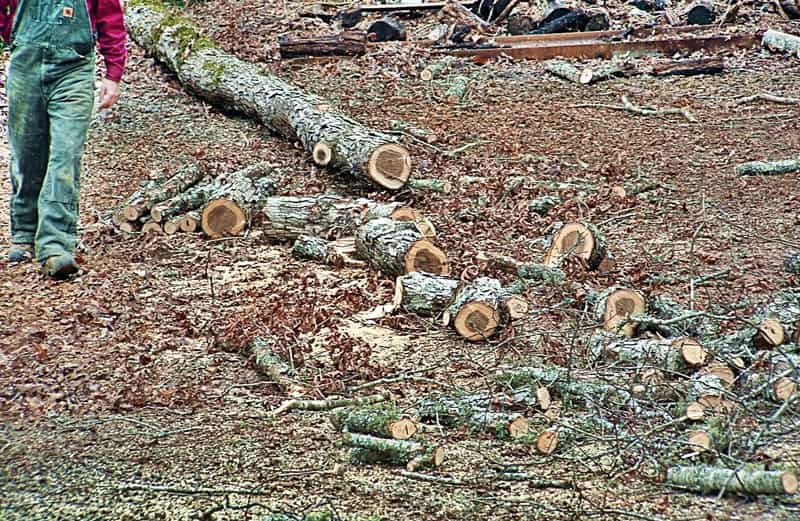 We had a fire going for about a week, but once things warmed up we let it go out to save wood. This week the temps have dipped down to fire building weather again.
The Deer Hunter and I only have to worry about wood as a source of heat. When Pap was a boy wood was needed for heat and every time you cooked, washed clothes, took a bath, and the list goes on.
I'm sure you've heard the old joke where a man says he thought his name was Git Wood until he was nearly grown.
Pap said when he was a boy some folks planned ahead cutting wood and ricking it up around their house and barns. When they needed wood it was already cut and stacked ready to be used.
Other folks, like Pap's family, got their wood from day to day. They had a wood pile near by, but someone had to go out and split what was needed for the day and carry it in the house or at least onto the porch.
There were still native Chestnut trees when Pap was a boy, not living ones, but skeletons of Chestnut trees that were killed by the blight. Pap said wood from them would burn even if it was wet with no kindling to get it started. He said women especially liked chestnut wood because it was so easy to start a fire with. Back in those days, Pap said, every once in a while he'd come up on a big dead Chestnut back in the mountains. He always thought they looked like white ghosts shining through the woods.
Much like today, when Pap was a boy, oak was one of the top choices for firewood. Oak burns hot and doesn't burn too fast.
The Deer Hunter likes to use locust which is almost impossible to find around here. He also likes oak and hickory. He thinks poplar burns too fast to do any good and pine is full of creosote.
One time somebody asked Pap what's the best wood to burn for heat. He rattled off a list much like the one above and then said "But the answer to that question really depends on how cold you are."
Tipper
🎄 If you're looking for something to jump start your Christmas merry making I have just the thing. I might be a little bit prejudice, but I highly recommend you visit Chitter's Etsy shop here and Chatter's Etsy shop here.
Subscribe for FREE and get a daily dose of Appalachia in your inbox