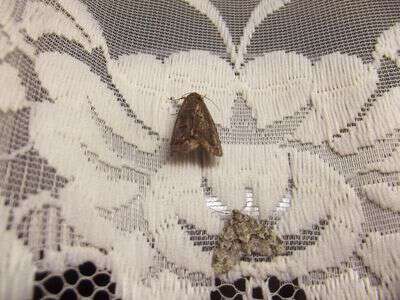 The warm weather we've been having is crazy-everything is budded or bloomed out and I've seen bees and bugs a plenty-even inside my house.
We leave a small light at the kitchen sink on at night-I guess we started leaving it on back in the days of 2am bottle feedings and just never got out of the habit.
Every morning for the last week when I stumble bleary eyed to the kitchen to start the coffee-I've been met by a covey of millers.
The first morning or 2 I tried to get them and put them out the kitchen door-I'm pretty sure they just flew around the end of the house and came back in the window-even though The Deer Hunter assures me they're not coming in the closed window. I've since given up on the catch and release method.
The odd appearance of so many millers this early in the year-did bring a funny story my way.
One of The Deer Hunter's friends said last summer a miller flew right in his ear and he couldn't get it out-he got his wife to dig around with tweezers-he even tried washing it out with a shot of water.
Once he realized he couldn't get it out-he headed to the doctor's office. When the doc came in the examining room and asked what the problem was-he told him "a miller flew in my ear and I can't get it out" the doc said "a what flew in your ear?" That went back and forth a few times until finally he got the doc to understood a miller is a moth-at least it is around here.
I checked my Dictionary of Smoky Mountain English to see what it had to say about millers. The dictionary said perhaps using miller for moth came about because their powdery wings resemble dust that accumulates on a grinding mill. I don't know about that-but I do know any morning now I expect to wake up with Moth Man hovering over me in retaliation for what I've done to his friends.
Tipper
Appalachia Through My Eyes – A series of photographs from my life in Southern Appalachia.