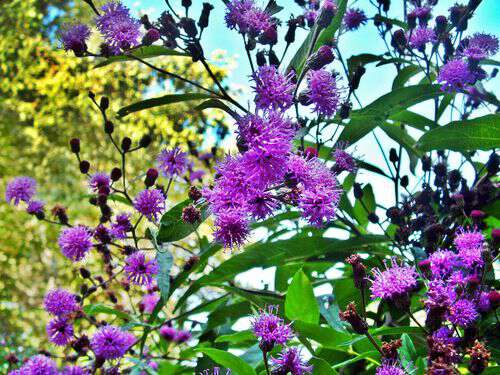 There is a shade of purple in
this flower near summer's end that makes
you proud to be alive in such
a world, and thrilled to know the gift
of sight. It seems a color sent
from memory or dream. In fields,
along old trails, at pasture edge,
the ironweed bares its vivid tint,
profoundest violet, a note
from farthest star and deepest time,
the glow of sacred royalty
and timbre of eternity
right here beside a dried-up stream.
—Robert Morgan
---
Roadsides and fields in Southern Appalachia have put on their purple robe. Ironweed is in full bloom. This time of year always feels old to me. The brightness of flower and vegetable gardens have mostly faded, and even the trees take on a lackluster look as they get ready for their show of fall color.
I think of Ironweed as the last hurray of summer. It's warm purple robe hugs the curvy roads I drive. It almost seems to be warning me that old man winter is on the way and I need to store up the beauty and warmth that's left from summer so I can pull it out on a cold winter's day and know summer will surely return again.
I read somewhere that Ironweed got its name because its stalk is too tough for grazing animals to eat.
The "Foxfire 11" book quotes Charles Thurmond on the subject of using Ironweed for medicinal purposes:
"Ironweed is very gentle. You don't really realize it's working. You make a concoction and use it on the surface of the skin for skin disease and things like that."
Tipper
Subscribe for FREE and get a daily dose of Appalachia in your inbox