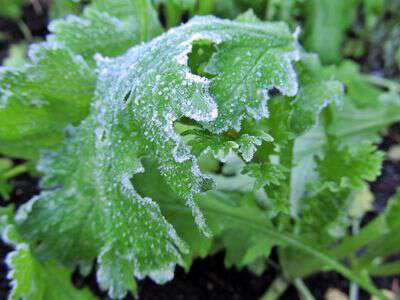 While cultivated collards, turnip greens, and mustard varieties have been known to escape or naturalize and grow wild in old garden plots, it was common practice to plant them in late summer and early fall with other cool weather crops. People also planted late cabbage and turnips for storing through the winter, and the fall garden assured them of a good supply of fresh greens after the warm-weather crops finished coming in.
Esco Pitts elaborates: "For a fall crop, we planted turnips and cabbage in September. Sometimes we'd put out late multiplying onions in the fall (around September) and have onions all winter. We buried the turnips along with the cabbage to keep them through the winter. Usually, my mother planted [collards] in the fall of the year. Around the latter part of July or the first of August, she'd sow a collard bed, and when they come up a good size to transplant, she'd have a row in the garden. Collards are not much good till the frost bites them—it makes them better to eat."
—The Foxfire Book of Appalachian Cookery
---
My winter greens have all poked their small heads through the dirt and are reaching for the sunlight.
Last night's video: Playing the Banjo in Appalachia | Talking Traditional Appalachian Music with Annie Fain Barralon
Tipper
Subscribe for FREE and get a daily dose of Appalachia in your inbox