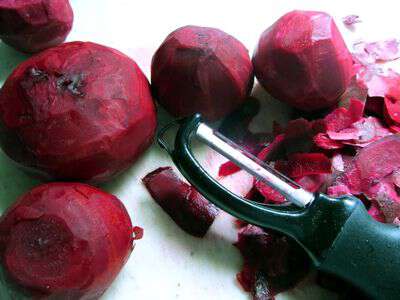 When this season's beets first started coming in I told The Deer Hunter we'd have some for supper. He asked me how I was going to cook them and I said "I would probably roast them in the oven." He said "Couldn't you pickle some?"
I knew we had pickled beets on the shelf in the basement from last summer, but I also knew he meant couldn't I make some fresh pickled beets. Knowing my day was already way to busy I wondered if you could make refrigerator pickled beets the way some folks do cucumber pickles. A few short google searches later I found a refrigerator pickled beet recipe that you didn't even have to cook. I knew I could find time in my busy day to make that kind of pickles.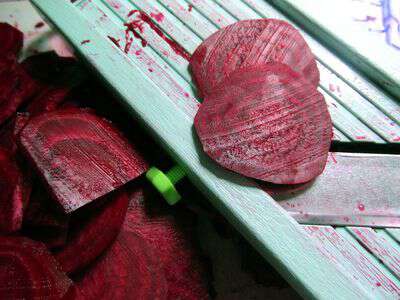 I found the recipe on earlymorningfarm.com – the blog post actually shared a cooked beet version of the refrigerator pickled beet recipe and an uncooked version. I went with the uncooked version.
You need:
hot tap water
rice vinegar (the recipe said you could use white vinegar too, but I went with the rice vinegar since I had some on hand)
sugar
salt
beets
onions (optional but I used them)
I especially liked the recipe because it gave amounts needed for each quart jar of beets you ended up with which made it easy for me to test drive the recipe without sacrificing a lot of my beets. Since I went with the raw version I used a mandolin to slice my beets very thin.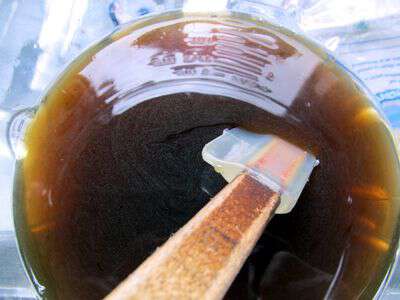 I loaded a jar with beets and threw in a cut up onion.
For each quart jar: I added one cup hot water (hot out of the tap); 1/2 cup rice vinegar; 6 tablespoons of sugar; and 2 1/4 teaspoons of salt to a bowl and mixed well. Once the sugar was mostly dissolved I poured the mixture over the beets and onions. I added a lid and set the jars in the frig.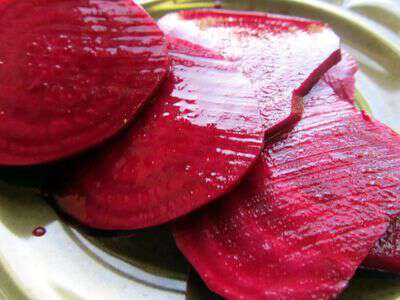 The recipe said to let the beets sit for a week before trying, but we tried them the next day and really liked them. The raw beets have a real crunch to them which we enjoyed. I think cutting the beets thinly is a must for this raw version.
This is a great recipe to use if you have a small amount of beets or need a quick special condiment to go with a meal.
Tipper