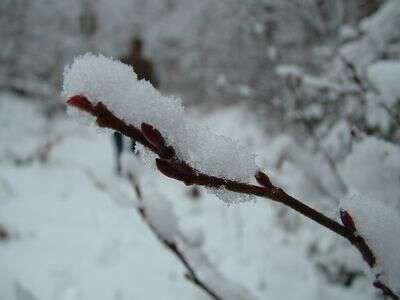 The excerpt I'm going to share from It's Not My Mountain Anymore written by Barbara Taylor Woodall today is one of the many parts of the book which made me laugh-and longingly wish I had known her mother.
One cold January afternoon Mama began to discern weather signs. The chimney smoke settled close to the ground and the fire was making "trompin" sounds like boots swishing deep snow. Raising a cup of water to her mouth, she said "I can taste snow in th' spring water. The stock was laying down this morning around the barn. Yes sir, a doozy of a snowstorm is a'comin. If we can't make it to the outhouse, we'll just have to pee in the gun barrel and shoot it out the window."
In the book Barbara goes on with the rest of the story-they did indeed get a big snow. I love that her Mother said she could taste snow in the spring water. Seems like somewhere back in the corner of my mind I recall someone saying the same thing-but maybe not. The Deer Hunter says he can smell snow coming and his nose has been right as long as I've known him.
Tipper
p.s. If you can't wait to read the book yourself-click on any of the links above (title of book in orange or Barbara's name in orange) to jump over and buy your own copy!