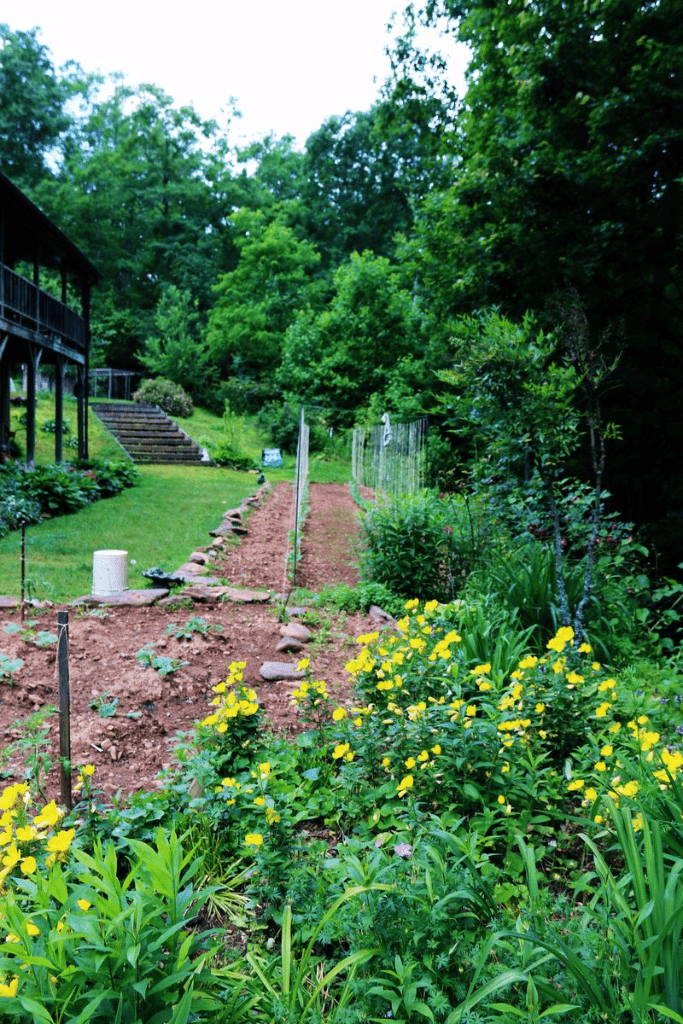 Country roads feel like summer. Maybe it's because folks go for more visits in the summer time. Heading down the highway to visit grandparents, aunts, uncles, and any other kin you may find along the way seems to fit perfectly into the slower pace of summer days with the kids out of school and the weather sending its own invitation to be out and about.
I haven't a clue where I was at or how old I was the first time I heard John Denver's recording of Take Me Home Country Roads. I know without a doubt I fell in love with the song the instant I heard it. Even my young ears recognized the powerful pull of home the song evokes in hearts and minds.
Up until a few months ago, I assumed John Denver wrote the song about the memories he had surrounding his childhood in West Virginia. Turns out Denver wasn't from West Virginia nor did he write the song.
Once The Pressley Girls begin singing the song I googled around and found the following information on the NPR Music Articles website.
NPR Music Articles – At 40, 'Take Me Home, Country Roads' Still Belongs

Denver first heard "Take Me Home, Country Roads" in the Washington, D.C., apartment of songwriter Bill Danoff. Danoff and his girlfriend, Taffy Nivert — also his writing partner — had met Denver years earlier, first when Danoff was working at the famous Cellar Door nightclub, and again on later tours through Washington.

Later, when Denver was passing through the city, he arranged to meet at Danoff's apartment after a performance. Denver almost never showed. He was injured in a car accident on the way over and taken to the hospital with a broken thumb. But he proceeded to Danoff's anyway.

'That's A Hit Song'

Denver asked to hear what Danoff and Nivert had been working on. Nivert urged Danoff to play the "Country Roads" song, which he'd been working on for several months, but he hesitated.

"I said, 'He won't like that. It's not his thing, you know, because it's for Johnny Cash,' " Danoff said in an interview.

At the time, Danoff and Nivert were only local performers. But they aimed to make it big by writing a hit song for bigger artists.

"So I played him what I had of 'Country Roads,' and he said, 'Wow! That's great, that's a hit song! Did you record it?' I said, 'No, we don't have a record deal,' " Danoff said.

He said Denver told him that they could record it together. And, several months later, they went up to New York City and did it. Danoff's first reaction to the recording was not positive.

"I thought, 'Oh, my God. There's way too much echo on that,' " he said. "I loved the song, but I thought we'd blown the record. And millions of other people didn't agree."

By August, the song had reached No. 2 on the Billboard singles chart.
———–
It was actually Russel Moore & IIIrd Tyme Out's version of Country Roads that inspired the girls to learn the song. Ben, my nephew who's moved off up north to make his way in the world, sent me the link to the video sometime last year. At the time I wondered if he was feeling homesick for the country roads of his youth.
While Ben and his brother Mark were home for Thanksgiving we all got together and filmed the song. Even though it was chilly outside with winter winds surely headed our way, I closed my eyes as they practiced and felt hot summer dirt under my feet while the sound of jar flies, buzzing bees, and slamming screen doors echoed just beyond the sound of the music.
The line that pulls at my heart the most is: Driving down the road I get a feeling that I should have been home yesterday, yesterday. Isn't that how it goes sometimes? We finally find the time to go back to something we've always loved and then we ask ourselves why we waited so long?
Hope you enjoyed the video!
Tipper