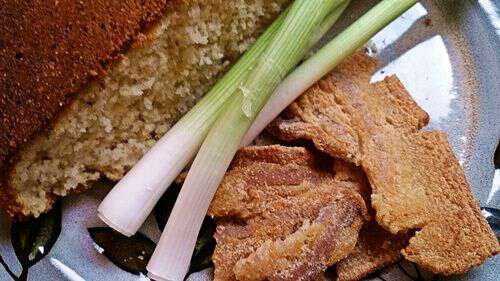 Laurel Branch
Salt pork plays a fat part in mountain cookery. Many of the old-time recipes call for it. Some folks are so fond of it fried that they turn up their nose at bacon.
For some reason, mountain folks put great store by fat pork. It has figured prominently in their diet since time out of mind. To mountain folks, it is known by many names.
The fat pork that is fried or used for seasoning boiled vegetables is called salt pork, fat back, side meat, middlin' meat, or sowbelly. Mountain folks refer to it mostly as fat back.
They season most vegetables with it, especially string beans, black-eyed peas, cabbage, and greens.
"Green beans ain't fit to eat unless they've been cooked with a chunk of fat back," said Mrs. Fannie Hensley, an old-time cook who lives in the hills above Dillsboro. "They ain't got no taste. I've cooked with fat back all my life. My mother cooked with it and so did her mother. I've never been without it. I've got some out there in the smokehouse now. I always boil my beans, potatoes, cabbage, and turnip greens with a chunk of fat back. and when I fix wilted lettuce, I fry the grease out of the fat back and pour it over it. That's the only way I ever fixed lettuce that was fit to eat. We fry fat back and eat it too. We'd just as soon have it as ham."
"Now Bert," she said referring to her husband, "he won't hardly eat ham meat, but he surely goes for fried streaked meat."
—John Parris – "Cooking With Fat Back"
—-
We are fans of salt pork at the Blind Pig house. I've most often heard it called streaked meat, side meat, and fat back.
Tipper
Subscribe for FREE and get a daily dose of Appalachia in your inbox