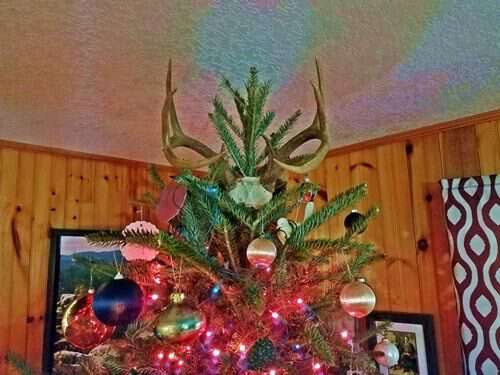 Over the years I've used a star or an Angel for our Christmas tree topper. The Deer Hunter usually brings a tree back from his last hunting trip to Georgia, but this year the place where he usually gets the tree was closed down. About a week later he came toting one in from work. He increases our tree size every year, even though our house size doesn't increase 🙂
The Deer Hunter trimmed the tree before bringing it inside, but once it was up I told him he was going to have to trim some more or I wouldn't be able to put something on the top. He said for me not to worry about the top he had it covered.
The antlers were the perfect addition to the tree-they made it the prettiest tree we've ever had…except I say that every year so I'm sure next year's tree will be even prettier.
Tipper
Subscribe for FREE and get a daily dose of Appalachia in your inbox