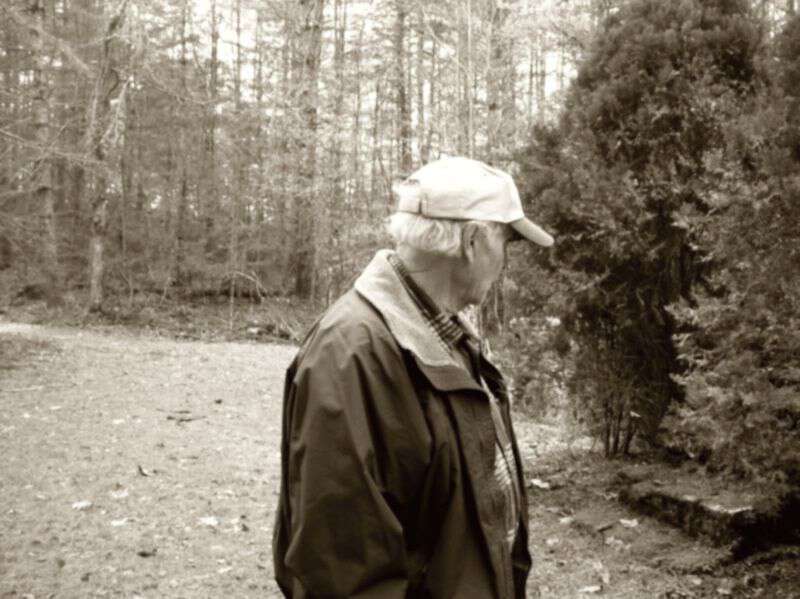 Click on the bar below to hear Pap and my Uncle talking about the Walnut Cove and the Coleman Gap, better known today as the housing development Brasstown Overlook. You'll also hear Pap use the phrase eh law.
Transcript of Recording
Pap: Turn to the left to start that. And if you look right straight to your right you're looking right up the Walnut Cove. You member you member the rocky point there?
Uncle: It's on this side?
Pap: On this side of the mountain yeah, yeah all this I'm talking about is on this side.
Uncle: Oh okay.
Pap: But in other words where the creek comes out of the Walnut Cove and runs into that other little old bitty drain ain't nothing but a spring drain you know comes out there. Why the road if you was following the old road going up the mountain gonna go through the gap it starts to switchback there. You know.
Uncle: Yeah. Yeah.
Pap: Well you member when it started that switch back and went to the left there's a mossy cleared like place on the right there kinda that's where that house was that's where Joe Coleman lived.
Uncle: Really. Did he really.
Pap: And out there in the curve when it bent back this way to head back towards the gap that old fence that come down there what was left of it I can remember when the barn part of the barn somebody burnt the barn that was there and that was Joe Coleman's barn. And that's where Joe Coleman lived, you know.
Uncle: Was that in that little flat there?
Pap: Yeah in that little flat.
Uncle: Oh ok. I know where you're talking about. I remember that old fence on the side on the lower side of the road down through there.
Pap: Eh law.
—————-
"Eh Law ~ An exclamation, at times in wonder, sometimes in resignation, and often with a tinge of sadness." (Definition from Mountain Born written by Jean Boone Benfield)
The Dictionary of Smoky Mountain English has an entry for Eh Law, but my familiarity with the phrase is more like Jean Boone Benfield's definition.
I most often hear the phrase used when there just ain't nothing that can be done about an unfortunate situation and everybody in the conversation knows there just ain't nothing that can be done. A sad resignation over something you just can't understand, explain, or justify.
Tipper