Today's guest post was written by Ed Ammons.

I found this on newspapers.com. It was written by Carl W. Greene Jr. and published in the Charlotte Observer on 10 Dec 1950. The images might be difficult to read so I transcribed them. I tried to spell and punctuate as it appeared to me. Auto-correct fought me but hopefully I won.
ASHEVILLE – Along with the surge of memories that float ghostlike through our thinking around Christmas time, there is one memory that is still in the hearts of a few, and that is perhaps fainting poetic reminiscence in the minds of others.
The days of the saddle-worn circuit rider are over, his passing was with the era of the Pony Express riders and covered wagons pushing westward. Years ago in the remote mountain regions of Western North Carolina Christmas was much the brighter for the eventful visit of the Circuit riding pastor. With him came happy stories of the birth of Christ; the real genuine fullness of Christmas celebrating in a Christian fashion was his to behold. Many of the mountaineers that he called on were ignorant of the garish Christmastime celebrating found in other sections of the country. Their celebrating was done to the strong winded lyrics of carols, taught by the circuit riding preacher. A brief story of the birth of Christ and off to the next mountain farm away went the circuit rider. All were joyous in this unique Christian fellowship and each family in turn did what it could do to make things comfortable for the preacher. They were, for the most part, poor mountain people, but they gave a bounty of their goods to the pastor, who, more often than not, turned the goods over to some more needy family farther along his circuit.
* * *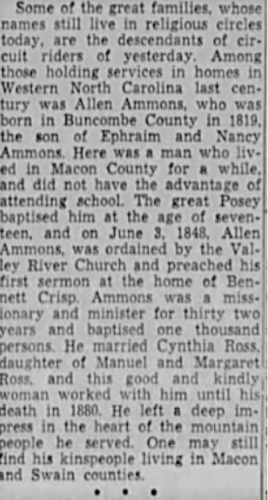 Some of the great families whose names still live in religious circles today, are the descendants of circuit riders of yesterday. Among those holding services in home in Western North Carolina last century was Allen Ammons who was born in Buncombe County in 1819. The son of Ephraim and Nancy Ammons. Here was a man that lived in Macon County for a while and did not have the advantage of attending school. The great Posey baptized him of the age of seventeen, and on June 3, 1848, Allen was ordained by the Valley River Church and preached his first sermon at the home of Bennett Crisp. Ammons was a missionary and minister for thirty two years and baptized one thousand persons. He married Cynthia Ross, daughter of Manuel and Margaret Ross, and this good and kindly woman who worked with him until his death in 1880. He left a deep impress in the heart of the mountain people he served. One may still find his kinspeople living in Macon and Swain counties.
* * *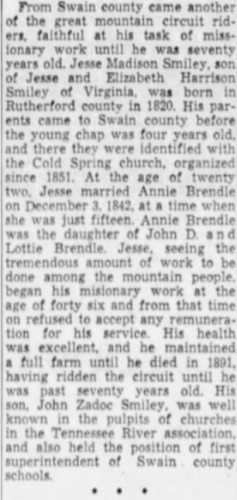 From Swain county came another of the great mountain circuit riders, faithful in his task of missionary work until he was seventy years old. Jesse Madison Smiley, son of Jesse and Elizabeth Harrison Smiley of Virginia, was born in Rutherford county in 1820. His parents came to Swain county before the young chap was four years old and there they were identified with the Cold Spring church, organized in 1851. At the age of twenty two, Jesse married Annie Brendle on December 3, 1842, at the time when she was just fifteen. Annie Brendle was the daughter of John D and Lottie Brendle. Jesse, seeing the tremendous amount of work to be done among the mountain people, began his missionary work at the age of forty six and from that time on refused any remuneration for his service. His health was excellent, and he maintained a full farm until he died in 1891, having ridden the circuit until he was past seventy years old. His son, John Zadoc Smiley, was well known in the pulpits of churches in the Tennessee River association, and also held the position of first superintendent of Swain county schools.
* * *
These were just two of the men who were not only epitomists of all that was fine, and carried on in a good work, but rather devotees, whose only ambition was to bring to the people in the remote western Carolina mountains the story of the Lord. They brought that story and more, they brought a form of self-sacrificing honesty in hard labor that is difficult to parallel today. Their rigors of strong physical discipline were tremendous , and when the cold of winter had frozen the smoke motionless over the valley cabins and mountain huts, the frosted breath of their horses, snorting in the crisp mountain air, riding above their bag of goodies and necessities must have looked better than Santa Claus and all the reindeer to the appreciative mountaineers. This was one of the most sincere forms of carrying the fullness and goodness of the Christmas story to the people who wanted to know more of the tale. The Christmas Circuit and the hard riding preachers are a part of our heritage now, and only their names stand as monuments to great lives, richly lived, in a most unselfish fashion.
---
Allen Ammons was my 2nd great-grandfather and Jesse Madison Smiley was my 3rd great-grandfather. As exemplary as were the lives of these men it seems I would have, early on, known this story and more, but unfortunately that was not the case. I only learned of them when I decided to research my family tree. With the help of my cousin and friend Bill Burnett, I discovered this and much more about my pioneer ancestors. My contemporaries, family and friends, seem to be uninterested in learning how they came to be. They seem more interested in what they can accomplish on their own, unwilling to build on such a rich past. Unwilling to build on the accomplishments of their forefathers. Can they rise to the level of these to Godly men on their own? Sadly, I think not!
Edwin Ammons
---
I hope you enjoyed Ed's post as much as I did!
Tipper
Subscribe for FREE and get a daily dose of Appalachia in your inbox