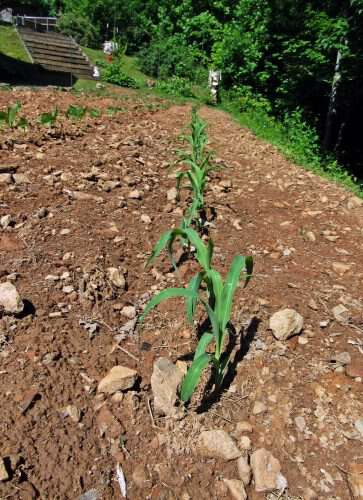 Time to share an update on the Blind Pig & The Acorn's Corn Test.
Tipper:  You can look back to here to see what happened to my corn. Before the incident, the good day corn was about 3 inches taller than the bad day corn. But since the corn met it's demise so soon it really wasn't much of a test.
Martina:  The good day corn is twice as tall as the bad day corn. Neither have tassels yet.
WKF:  The good day corn started out way ahead of the bad day corn but as they grew they evened out to be the same height. Recently, the good day corn has sprung ahead of the bad day corn again, although something has been eating on the good day's tassels.
Rick M:  Both the good day and the bad day corn were about 6 inches high-when something pulled it all up. Up to that point both of the days were equal in growth.
Nancy: Both days are doing well. Corn is about 4 feet high with tassels.
Becky: Not one seed came up-it was a total wash.
Warren:  The heavy rain we've had this year ruined most of my garden including the corn.
Helen:
The good day corn are kind of Lording it over the bad day corn. I tried to tell them that could have been them but I don't think they listened. The bad corn is about 6 inches above my knee, while the good day corn is even with the bend of my elbow (see photo above) it's about 3ft 9in.
As you can see 4 of the corn testers-Martina, Helen, WKF, and Nancy-are still chugging along-while the rest of us have been put down by mother nature.
Tipper