Today's guest post was written by Ethelene Dyer Jones.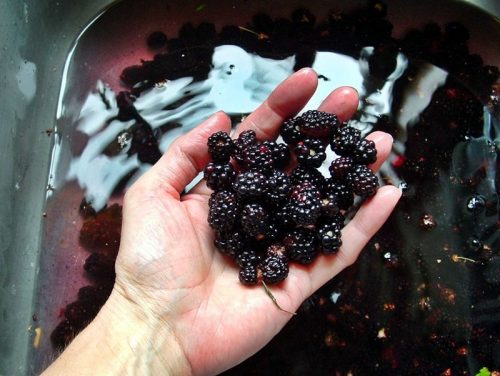 The First Blackberry Pie
On the farm in the mountains where I grew up, we looked forward to the first ripe blackberries. If enough had ripened, it would mean a blackberry cobbler for dessert after we'd picked, looked and washed them.
I don't remember any recipe for making blackberry pie. My mother knew how to do it, just because she'd done it so long. I remember watching her and then doing it as nearly she did as possible.
Basically, it took a "pie pan" to place the berries in. I don't mean by this a "pie plate" like we used for making pies with a rolled-out crust and a filling.
A cobbler pie pan was a round pan about 8 or 9 inches in diameter with sides about 2 and ½ inches up and holding about 2 quarts. Put the washed and "looked" berries (making sure no stems remained) in the pan.
Cover with water, and a little more than covered.
Put in about a cup and a half of sugar.
Bring to boil. Put in 1 teaspoon of vanilla. This seasoning helps to take the bitterness out of wild blackberries.
Make pie crust—not the regular kind, but rich biscuit dough, with more shortening (in those days we used lard!) than for regular biscuits.
Roll out the dough on a floured board until very thin.
Cut strips of dough and drop about 2-inch lengths into the boiling berry mixture.
Turn down heat (or if using a wood stove like we did when I was a child, move to a cooler part of the stove.)
Let this first layer of berries and "dumplings" cook until the dough is cooked through and set, and you still have plenty of juice, but it's thickened. Then roll out a thin crust, and again cut strips, but this time "lace" them to cover the top of the berry/dumplings mixture.
If you have cream saved from milk, spread it over the top of pie. Sprinkle sugar on top.
Put in heated oven and bake until the crust is golden brown. Remove from oven. If you like it hot, spoon out a serving and enjoy. Or, if you can do so, wait and serve for dessert after lunch or supper.
You may have to experiment with this old fashioned way of making berry cobbler until you get the feel of having the right amount of berries, water, dough for dumplings to thicken the mixture, and the top crust which you want to bake to a golden brown.
The only drawback to gathering wild blackberries for making homemade jelly, delicious cobbler pies, and canning the berries for winter use is all the "chiggers" caught while picking them. We used to rub kerosene on our legs and arms to try to ward off chiggers. But I still recall that those little pests had a heyday with berry pickers' arms and legs. But our buckets of ripe, juicy berries were always recompense for any discomfort of chigger bites. Why don't you go berry-picking and reward yourself and your family with this Appalachian treat: Blackberry Cobbler!
—-
I've made Ethelene's blackberry pie and it is delicious! I use one of my cast iron frying pans for the cobbler and it works perfectly.
Tipper
Subscribe for FREE and get a daily dose of Appalachia in your inbox