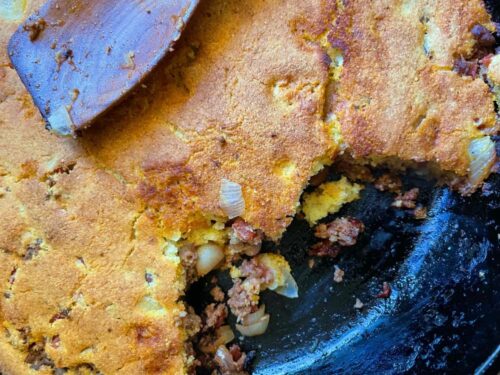 To make corn pone pie you'll need
1 pound ground beef, venison, pork, or turkey
1 onion chopped
2 teaspoon chili powder
3/4 teaspoon salt
1 teaspoon Worcestershire sauce
About 2 cups of tomatoes diced or stewed
1 can of your choice of beans (I like pintos and kidney beans)
1/2 recipe of your favorite cornbread batter
Brown meat and onion in pan. Add seasoning and tomatoes; simmer for about five minutes or so. Stir in beans. Top with cornbread batter and bake in 450 oven for 20 minutes.
This is such a simple recipe that it can be changed to fit what you have on hand or what you and your family prefer. Chatter says its sort of like making chili and cornbread all at the same time 🙂
If you have a version of corn pone pie please share it with me.
Last night's video: Planting Cabbage and Onions on a Windy March Day in Appalachia.
Tipper
Subscribe for FREE and get a daily dose of Appalachia in your inbox