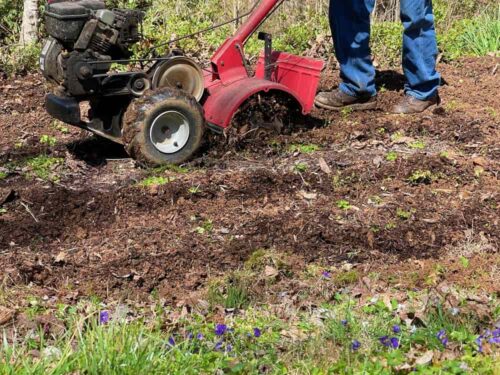 As I watched The Deer Hunter turn over Granny's little garden patches I was struck by how dirt just keeps on giving.
The mounds I planted squash and cucumbers in last summer were still evident as was the layer of mulch we'd added to the entire garden to hold in moisture and keep weeds at bay.
In a matter of minutes The Deer Hunter literally destroyed the careful set up we built with the turn of the tines as he made his way back and forth.
Coming from a longline of folks who appreciate and embrace the ability to grow their own food I know well the value of good rich dirt, but at that moment it was as if the realization, the very goodness, of the earth solidified itself in my mind. Sounds strange, but I may never look at dirt the same way again.
Regularly amending garden soil ensures it will continue to produce well, but my main focus was on the literal pieces of matter that make up dirt. When I think on it at that level I'm astounded that each year we turn it over, till through it, mound it and shape it to our needs and it just keeps on doing the job for us over and over again. I'm beyond thankful for the blessings God has poured out on my head and dirt is at the top of that list.
Tipper
Subscribe for FREE and get a daily dose of Appalachia in your inbox