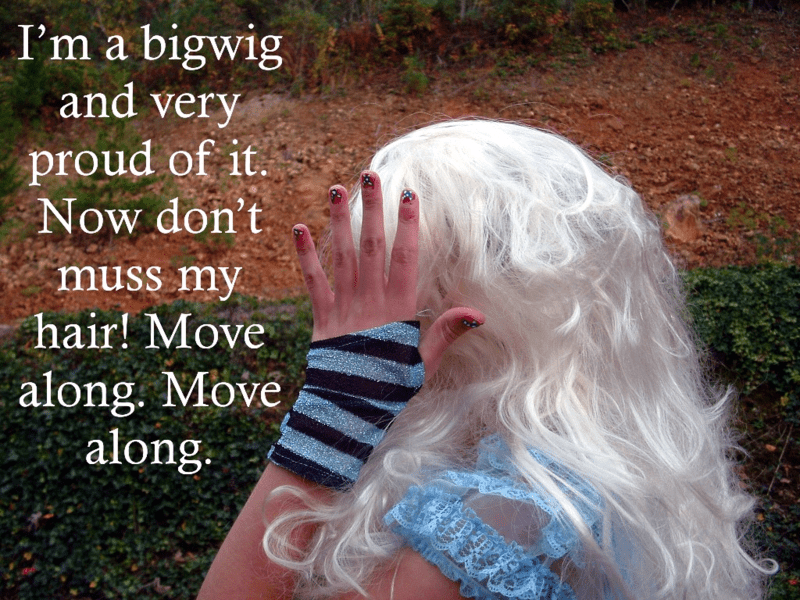 Have you ever run into any bigwigs? Bigwigs are people who are in a position of influence…or at least they think they are. Bigwigs enjoy letting everyone around them know about that superior position too.
Bigwig is a phrase we use all the time-like:
Who's those bigwigs down at the store? I hadn't never seen them before but they were acting like they were running the show.
He grew up down the road but ever since he got that job he thinks he's a bigwig and won't hardly even throw his hand up.
I figured the term bigwig had something to do with England-back when it was customary for men of influence to wear wigs. But I didn't know the real story behind the term, until I read the book Common Phrases and where they come from by John Mordock & Myron Korach.
According to the book, the term started with Louis XIV of France. In his early years Louis XIV had long hair and he wore it up, wig-style. Louis XIV liked to make a fashion statement with his attire and his subjects knew he did-so they started wearing 'big-wigs' too.
The style of bigwigs quickly spread to other prominent men in France. From France the fashion of bigwigs spread to influential men in England. Eventually the style spread all the way to America. The book Common Phrases and where they come from states during that time period there were 40 different styles of men's wigs. Now that's a lot of wigs to choose from.
As the style fell out of fashion, the only folks left wearing bigwigs were men who worked for the government, but using the term as a description for haughty people is still common today…at least where I live it is.
Tipper