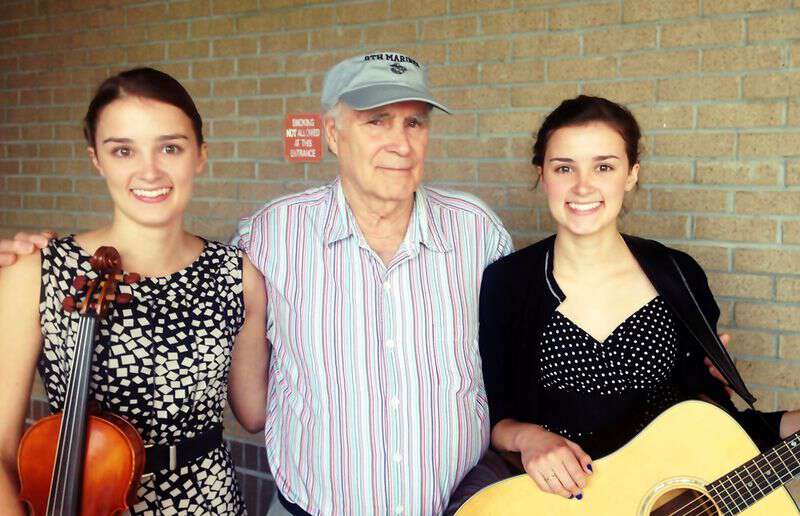 Chitter, Pap, and Chatter 
spitting image = looks just like someone
There are lots of folks who can't tell the girls apart, don't feel bad if you're one of them. Most of the time folks who are around them often pick up on the differences in their personality and use those nuances to tell which one is which. However there are a few people who have trouble distinguishing between the two even though they're around them on a regular basis.
On the other hand, I've never thought they looked that much alike. I will admit, when I look at photographs of them I do see the startling similarities that are found in twins.
From the very first day I laid my eyes upon them I saw Chatter as being the spitting image of her Daddy and Miss Cindy. Chitter on the other hand was a Wilson up one side and down the other as they say.
Today, I still see the family genetics clearly showing themselves in the same manner when I look at the girls.
I've always thought Chitter especially looked like Pap through the brow of her face. After Pap passed away we collected photos to share with folks at the funeral. Ben noticed that Pap had his eyebrow cocked in the same position in most every photo. I said "That's it! Chitter does her eyebrow just like that sometimes!! That's why I always think she looks like Pap!" Another time I think Chitter looks just like Pap is when she squints her eyes.
We all see things differently though.
Even though I believe Chatter gets her looks from her Daddy's family, Pap always said Chatter reminded him so much of his grandmother Carrie. One time Zelma Mason, who lived down the road, told me the same thing about Chatter-she said "That one is the spitting image of your great grandmother Carrie."
spitting image = looks as if the child were spit from their mouth
Tipper
p.s. On the day the photo above was taken the girls played at a 9-11 Service. There was even a camera crew there to film part of it for NC Public TV. Chatter got her guitar some kind of all messed up and out of tune. Pap swooped in tuned the guitar and told the girls not to be nervous cause he'd be right there in the front if they needed anything. In other words his helpful and encouraging manner saved the day as it so often did.