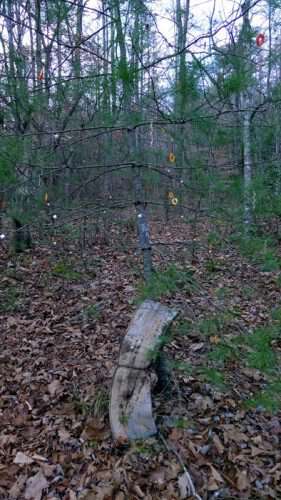 Anonymously decorated Christmas tree in the Smoky Mountain National Park-near Deep Creek in Swain County NC.
Don Casada recently shared a photo (see above) and a story with me-that I just had to share with you:
Something which fits in with the season…when Susan and I went up Juneywhank, she spotted a decorated Christmas tree!! It is a short ways up above the falls. When I went back by there this past Friday, I took an old washtub over to lean up against the base so that it would be more easily spotted. I really ought to go back and put a note in the ziploc bag that whoever decorated the tree had attached with "Merry Christmas" written on it. I thought this was really cool.
I thought it was really cool too-and ever since Don shared the photo and the story with me, I've had the urge to go up in the woods and decorate my own tree. My first thought about the reason for the tree was: the person decorated it with the birds in mind.
But maybe not-maybe they were just feeling the Christmas Spirit that can be found in the hearts and minds of people this time of the year.
Tipper
Appalachia Through My Eyes – A series of photographs from my life in Southern Appalachia.
Subscribe for FREE and get a daily dose of Appalachia in your inbox