Today's guestpost was written by Brian Blake.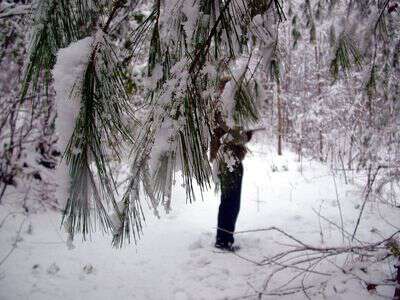 A Christmas Friend written by Brian Blake
Tom
Blake drank Olde England's ale in the King's Colony
He chopped some trees to build our home out
here in Tennessee.
Mud
and straw between the logs kept out winter's chill,
But warn't too warm when that north wind
came whistling up the hill.
Grandpa's
long flintlock rifle still rests on wrought-iron nails –
He told us how he used to hunt
Appalachia's woodland trails.
October's
harvest moon was full when he heard a furious roar.
Around the bend a Cherokee chief was
cornered by a b'ar.
"I never
miss black bears," said Gramps, holding us in awe.
"The beast fell dead and the Chief said,
'They call me, Eagle Claw.' "
Grandpa
died in early spring and we buried Pa soon after.
We said a prayer, got in the corn, and hung
a smoked ham from the rafter.
For
Christmas Ma had candles lit and an apple pie to savor,
Celebrating solemnly the Advent of our
Savior.
With
the Milky Way bright high above, came a knock that holy night.
Who could be there? We looked, but saw no
visitor in sight.
Yet
on the frozen porch we found a thick, black bear skin lay,
And a tall shadow seemed to whisper, "We
regret we cannot stay.
But I'm
not entirely gone, old friend; I'm hunting to the last!
Eagle Claw brings this for your boys to blunt
the north wind's blast."
© Brian P.T. Blake
——————————-
I hope you enjoyed Brian's poem as much as I did! Leave him a comment and I'll make sure he reads it!
Tipper