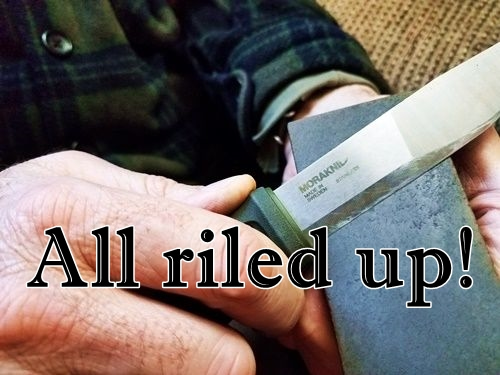 A portion of a comment AW Griff left last week got me to thinking about the word rile.
"I have always known the knifes as case knifes and a Case brand knife is a totally different animal. My briggity Grandson calls them a table knife just to start a rall. My teacher Wife just told me there was no such word as rall but it should be row. Well, I grew up using rall."
I've never heard the rall usage AW mentions, but as I read his comment I immediately thought of getting riled up.
roil, roil up verb, verb phrase variant form rile.
1883 Zeigler and Grosscup Heart of Alleghanies 128 The current of the stream was slightly riled; thus everything being, propitious for the sport. 1904-7 Kephart Notebooks 4:853 He was some considerably riled about it. 1966 Dykeman Far Family 81 Your'e a pretty wild mountaineer when you're riled aren't you? c1975 Lunsford It Used to Be 168 "Riled' is a verb and it means to "become angry." The old man got sort of riled about the way I voted, and he didn't like it. 1978 Montgomery White Pine Coll. III-2 That pretty well riled White Pine up.
Dictionary of Smoky Mountain English
—-
The word rile in conjunction with getting upset at a rapid rate is common across the United States, but my isn't it a great word!
The very sound of it indicates the emotion a person feels when they get all riled up.
Tipper
Subscribe for FREE and get a daily dose of Appalachia in your inbox