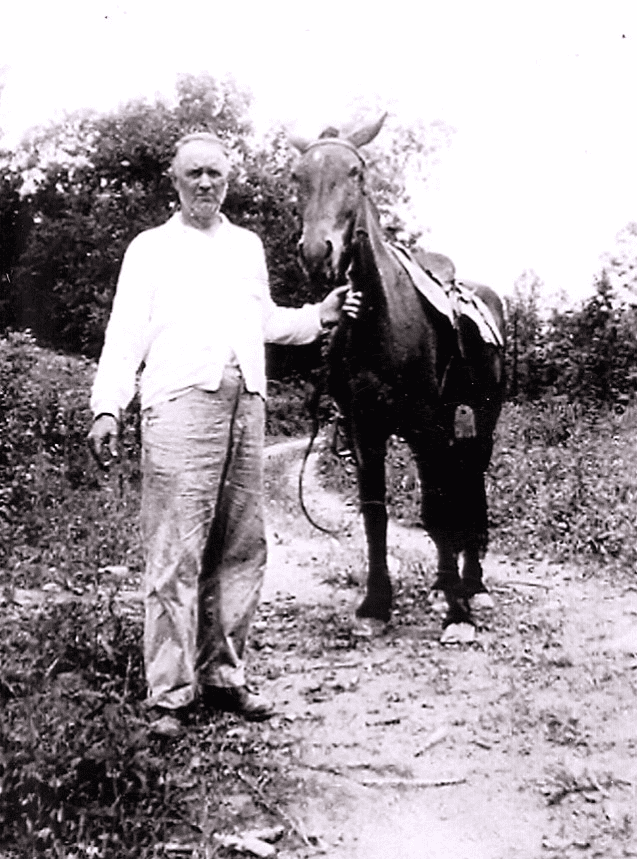 Benjamin (Bird) Wilson and John Mule
The other day Pap and I made a trip over to Blairsville GA. On the way back he told me about visiting the Dockerys as a boy.
Pap showed me the little holler where Homer Dockery and his family lived at one time. There wasn't much to see now. A power line goes right through the middle of the area and it's so overgrown with trees and bushes you can hardly see the mouth of the holler unless someone points it out to you.
Pap's Grandpa, Benjamin, and Grandma, Carrie, took him along with them to Homer's. Pap liked to go so he could play with Homer's sons Frank and Jack. Pap and his family lived in the same area we do today. I asked Pap if they went through the woods from our house to Homer's or if there was a road that came around like it does now. Pap said he didn't remember if they went the shortest route through the woods or came around. He said they walked or rode a mule because none of them had a car in those days.
Grandpa Wilson had a mule called John Mule. Pap said he was the meekest pet of a mule you ever seen. More like a big dog than a mule.
Pap has memories of visiting other Dockerys too. Caney who lived at the head of Pine Log, Chester who lived across the mountain from Pine Log in Smyrna GA (or Smyrnie as Pap calls it) and Dewey Dockery who also lived in Smyrnie. Dewey ran a small store and corn mill.
It would take about 5 hours to get to Chester's house. Grandpa Wilson walked while Pap and his Grandma Carrie took turns riding John Mule.
I asked Pap what they did once they got there, you know what was the purpose in them going on such a long trip? He said "Oh the grownups would talk and the kids would play. And there was usually some sort of trading going on. Grandma would take something and trade it for something the Dockerys had. Grandma was always fooling with quilts and she might take a bunch of old scraps over there to trade. Sometimes she carded wool to take and trade from Grandpa's sheep."
Pap said usually they'd visit with Chester a while then head back over the mountain to Caney's where they'd spend the night before heading home the next day.
I asked Pap if he slept on a pallet in the floor; he said it seemed like Caney had an extra cornshuck bed and they slept in it.
Pap said when he was just a babe Homer Dockery sharecropped the Harshaw Farm with his Grandpa Benjamin. At the same time, Pap's father, Wade, sharecropped the land just below the Harshaw Farm which was called the Richardson Place in those days.
I grew up going to visit the Dockery's too. The main difference being I road in the back of Pap and Granny's car instead of on the back of a mule. Pap and Granny would load us all up and head over to Moccasin Creek. Sometimes we'd pull up at one of Homer's son's house other times we'd visit with Homer's daughter just up the road. Didn't matter which house we visited, there was always grown ups talking and laughing, kids playing, good food a plenty, and fine music being made.
It's comforting for me to hear that Pap grew up going to the Dockerys like I did, but it's slightly sad to think of those days being gone. As our lives and times have changed, my kids won't have memories of visiting the Dockerys. But someday I can take them to Moccasin Creek and show them where I used to visit the Dockerys; and along the way I can show them where their Pap rode John Mule to visit the Dockerys when he was a child.
Tipper
This post was originally published here on the Blind Pig in 2013.