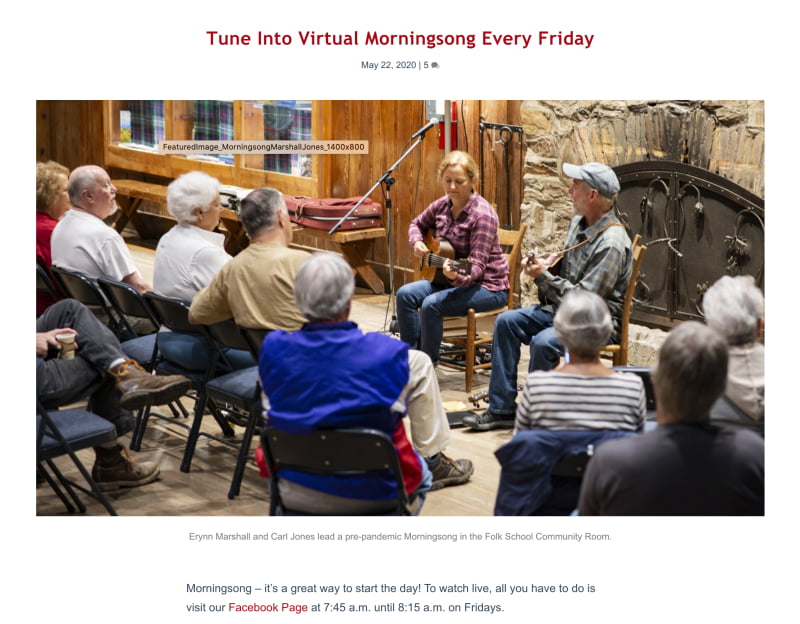 With the Folk School still closed, I'm mostly working from home. The closure might make you think the staff and resident artists don't have much to do—but that couldn't be further from the truth. I think we're all busier than we were when we were on campus everyday.
One cause of our increased work load is the issue of trying to figure out how to do things in a virtual fashion that have always been done in person and by hand.
If you've ever taken a class at the Folk School you're familiar with the tradition of Morningsong which is a Danish custom of singing, folklore, and fellowship. For those of you who haven't had the pleasure—in a nutshell each day of classes begins with students gathering together in the Community Room of Keith House for a short performance (30 minutes).
In the days when Olive Dame, who founded the Folk School, was still alive the students and staff did most of the singing, but these days although the performer may ask the crowd to join in from time to time it's mostly like getting to watch a mini concert every day of the week while you're there.
In the early days of the pandemic we were desperately seeking ways to keep our students and community involved in the Folk School even though they couldn't be there in person.
Our Programming Department quickly came up with the idea of hosting a virtual Morningsong one day a week.
As some of the staff were furloughed their duties shifted to other employees. Virtual Morningsong was one of the things that landed on my plate.
Although sometimes hectic it has been a very rewarding job duty. Just as we were learning all the online intricacies so were our performers. While some of them are seasoned professionals when it comes to going live online others have needed some guidance.
Back in September I helped Geoff Hohwald and Rick Taylor figure out how to do things on their end. Over the course of a few days and several phone calls I laughed till my sides and face were sore. The girls told their daddy they'ed never heard me laugh so much (they all say I don't have a sense of humor). I said "Well I've never had to help Geoff and Rick before!"
The Pressley girls first started doing Morningsong when they were in college. They'd stop by the Folk School on their way to school. Since Morningsong begins at 7:45 a.m. Paul and I were always either already at work or on our way so Morningsong was something the girls did all by themselves.
Many of the performers, like Geoff and Rick, from our virtual Morningsong series are instructors at the Folk School. Some of them live in another time zone or have worse internet connections than I do so early on in the process we realized some folks would have to pre-record their performance and send it to us.
It was almost November before it occurred to me that The Pressley Girls could record a Morningsong which included Paul and me.
I hope you enjoyed our virtual Morningsong. The Folk School archive of virtual Morningsong videos is a real treasure trove. You can visit it here.
To see a traditional live Morningsong watch this video compilation the Folk School made about The Pressley Girls in 2018.
Tipper
Subscribe for FREE and get a daily dose of Appalachia in your inbox