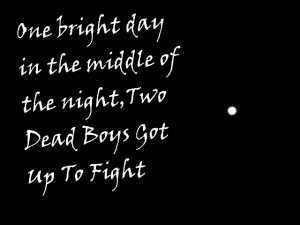 One bright day in the middle of the night,
Two dead boys got up to fight.
Back to back they faced each other,
Drew their swords and shot each other.
The deaf policeman heard the noise,
Came and shot the two dead boys.
If you don't believe this lie is true,
Ask the blind man, he saw it too.
————–
When Paul and I were young we went around saying the little ditty above to each other. The words have a catchy rhythm when you say them aloud-but mostly we liked the silliness of the poem. Each line is a total impossibility-and as the poem moves along the impossibilities get larger and larger.
A few weeks ago I woke up with the poem on my mind. As a child I never gave the origins of the poem a second thought. A quick google search told me lots of people-from all parts of the country-remembers the poem from their childhood too.
The British Columbia Folklore Society has an entire page dedicated to the poem One Fine Day In The Middle Of The Night, and offers this information about the poem:
"As to the history of "One Fine Day…" it appears to have evolved from tangle-worded couplets that have been popular in Miracle Plays and the folklore and folksongs of the British Isles since the Middle Ages. Tiddy, in his book The Mummers' Play [1923, Oxford, Oxford University Press], cites the earliest known example of this type of humour as appearing in the manuscript of Land of Cockaigne about 1305 [Tiddy 1923, p. 116] and a 15th century manuscript in the Bodleian Library [MS Engl. poet. e. 1: c.1480] includes four lines that are directly related to our rhyme.

In one form or another the modern version of Two Dead Boys, including many of the orphan pieces found below, has been collected from children in playgrounds since the middle of the 19th century. A detailed study with examples collected throughout the British Isles since the turn of the 20th century can be found in Iona and Peter Opie's The Lore and Language of Schoolchildren [1959, Oxford. Oxford University Press, pp. 24-29]."
As with any poem or song that's been around for a few generations, there are numerous variations to the poem One Fine Day In The Middle Of The Night. The version of the poem Paul and I remember obviously deviates from the beginning line-where we said "one bright day in the middle of the night" the original started the line with "one fine day."
Have you ever heard the poem?