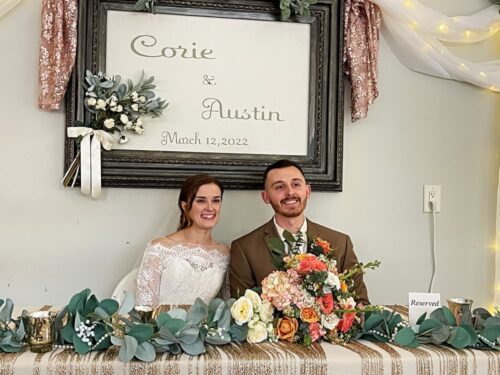 The wedding was a huge success even if the weather was cold, windy, and snowy. After preparing all week we were so tired that Chatter said she didn't care if it did snow she was getting married even if no one came but us 🙂
I didn't know if we'd wake up to a big snow or not, but like Chatter I was so tired by Friday night that I just couldn't worry about it no more.
Thankfully we only got a skiff of snow. We did have frigid temps and crazy wind. But folks braved the weather and joined us in the wonderful celebration of joining Chatter and Austin in marriage and both of their families in love.
The cake was lovely, and delicious—the food was good too. But most of all there was a wonderful sweet spirit about the entire day.
Our friends hosted the wedding at their house which has huge windows. It was all cozy and warm inside and with the snow blowing outside it was almost like we were a colorful scene of people inside a snow globe 🙂
You can watch last night's video for a quick peek at the wedding (see link below). We videoed the entire ceremony and Chatter will share it in a couple of days so stay tuned for that.
The Deer Hunter, Chitter, and I are exhausted, feeling a little bittersweet without Chatter in the house, but so happy for her and Austin to start their lives together.
Last night's video: A Wedding & a Skiff of Snow in Appalachia.
Tipper
Subscribe for FREE and get a daily dose of Appalachia in your inbox