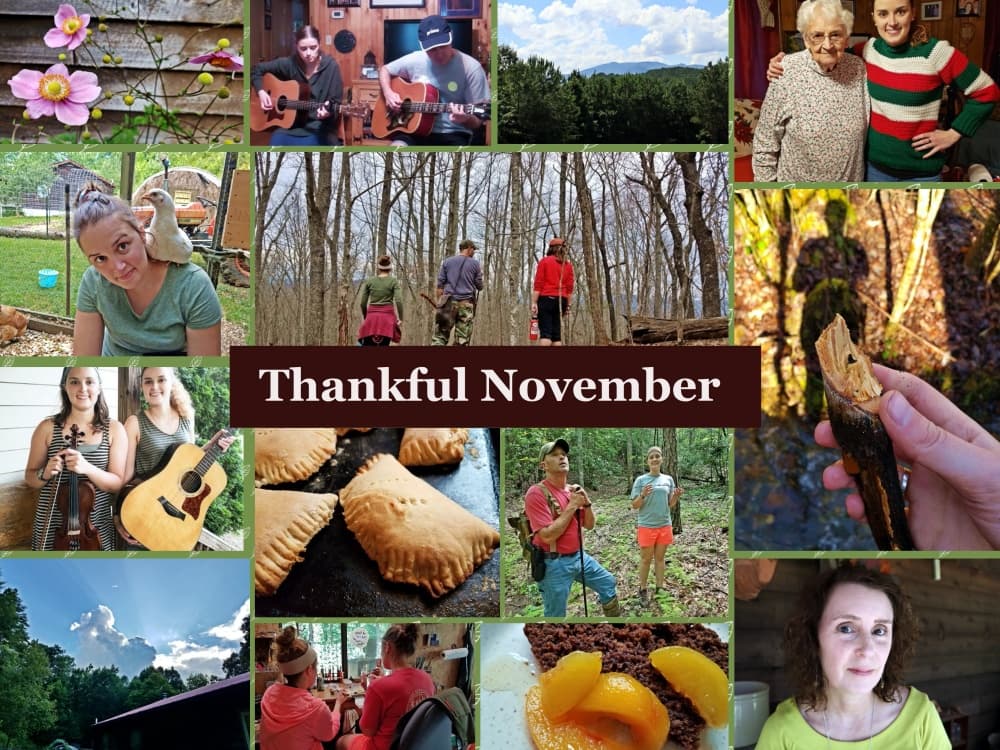 Here's what "The Foxfire Book" has to say about drying vegetables.
PUMPKIN: Mrs. Tom Kelly said, "This is a recipe that was used in most families in olden times. You slice th'pumpkin around in circles, take th'seeds out, peel it, and hang it on a stick crosswise of th'joists of th'house. Let it hang there until it dries. Then store it in sacks. It took a long time to cook, and you have to cook it several hours, and they season it with hog meat grease.
SWEET POTATOES: Boil the potatoes until done. Slip off the skins and slice. Put on a clean white cloth and put out in the sun each day. Then stack for winter use in pudding, pie, etc. Some people would just peel and slice without boiling, and set out to dry.
CORN: Corn was cut as if it were going to be cooked (twice around the cob, according to Mrs. Harriet Echols), and then spread out in the sun, sometimes on a piece of tin.
OKRA: Slice okra. Put on a piece of metal which has been covered with brown paper or on a white cloth to keep the okra off the metal or tin sheet being used. Place thinly on the sheet, and put out in the sun. Cover at night. Let dry until ready to take off the paper. Remove and put in bag until desired to use for cooking.
LEATHER BREECHES BEANS: String tender green beans. Fill a long needle with a long strong thread. Push the needle thorough the center of the bean, pushing the beans together at the end of the thread, filling from knot end to needle. Hang up the string by one end in the warm air, but not in direct sunlight. This gives the beans a better flavor. Let them remain hanging until the beans become dry. Store in a bag until ready to use.
PEAS: Pick the peas when ripe, and lay them in the sun to dry. After they are thoroughly dry, place them on a sheet outside on a windy day, and beat the hulls off with a stick. The wind will blow the chaff away and leave just the peas. Store the peas in sacks in a dry place until you're ready to eat them.
—"The Foxfire Book"
---
Today's Thankful November giveaway is a used copy of "The Foxfire Book." I will warn you the book seems to have been stored near a woodburning stove since it smells faintly of woodsmoke. Miss Cindy picked up the book at our local dump store—do you have a dump store?
At our local garbage dump there is a little shed where folks can discard items that can still be used and take items left by other people. When Miss Cindy saw the copy of "The Foxfire Book" she grabbed it up knowing it would be perfect for my Thankful November. *Giveaway ends November 13, 2020.
---
The winner of the used Foxfire 2 book is Wanda Devers who said:
"My husband & I were just talking about plowing with mules a few days ago. I do remember a single pointed blade that went pretty deep and threw up a roll of dirt. I remember Daddy plowing all day with mules in a bottom so long one turn took a day. And plowing our garden where the mule's foot & leg went down into an old well no one knew was there. They put old railroad crossties and dirt it it but there was a sunken place there that's probably still there. The stuff of nightmares especially since Mama would sing a song about a little girl falling in an old well and getting killed.
We have just bought one of the small to medium sized tractors! My husband is in absolute heaven!! It was delivered yesterday and he's already carried an old mower in the bucket back to his recycling area for metal. It cost a fortune but it should last a lifetime.
I have some of the Foxfire books and I love them. Should I win this one, I think I will give it to my best friend who has been gardening & canning like mad after the shortages we've had."
The winner of the two children's hats is Dana who said:
"I've always wanted this skill and I can't seem to get past making the first stitch. I keep on trying."
Wanda and Dana send your mailing address to me at [email protected] and I'll send you the goodies 🙂
Tipper
Subscribe for FREE and get a daily dose of Appalachia in your inbox