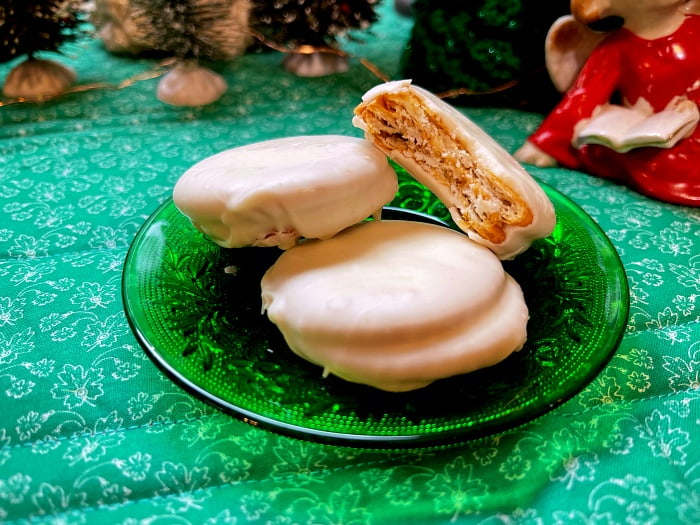 One of the easiest sweet treats I make at Christmas is Ritz Cracker Cookies. It doesn't have to be Ritz crackers, your favorite will work just as well.
There's only three ingredients which plays in to the easy part.
I learned how to make the treat ages ago from The Deer Hunter's step-mother Janet. She always had them at Christmas and The Deer Hunter just loved them.
You'll need: crackers (I use Ritz crackers), peanut-butter, and almond bark (you could also use chocolate or your favorite type of melting morsels).
Smear a small amount of peanut-butter on a cracker and sandwich it with another one.
Chop almond bark in small pieces and microwave until melted. It doesn't take long. I usually do short intervals, stirring between till it's melted. You can also melt it with a double boiler.
Dip sandwiched crackers into melted almond bark. A fork works well for this step. Once the crackers are covered you can gently tap the fork on the side of the bowl to get rid of the excess. Set covered cracker on parchment paper, pan, or rack till almond bark hardens.
Store in an air-tight container for about a week…if they last that long 🙂
Last night's video: Christmas at Celebrating Appalachia.
Tipper
Subscribe for FREE and get a daily dose of Appalachia in your inbox