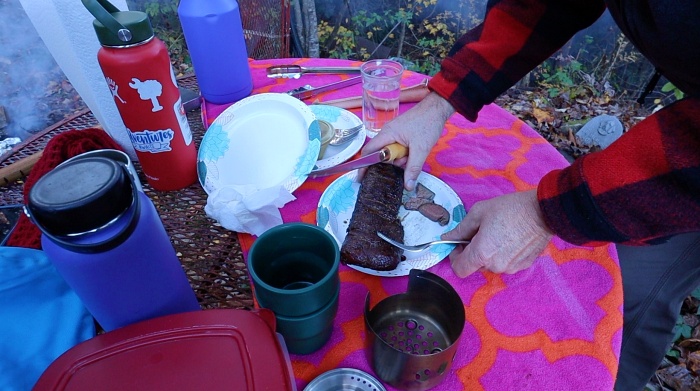 Over the weekend we celebrated the first real cold air of the season by cooking our supper outside. We built the first fire in the woodstove and the first fire in the pit out back.
When The Deer Hunter processes the deer he harvests he usually leaves the backstraps or tenderloins whole. We really enjoy them marinated and grilled.
Here's the marinade he uses.
Deer Loin Marinade (makes enough for 1/2 tenderloin or small loin)
1 1/2 cup olive oil
1 cup Worcestershire sauce
1 1/2 teaspoon salt
1 1/2 teaspoon black pepper
1/2 teaspoon garlic powder
1/2 teaspoon oregano
1 heaping tablespoon honey
Mix well; marinate meat at least 5-6 hours. Cook to your desired doneness basting loin through out cooking with marinade. Discard any left over marinade.
Watch last night's video to see The Deer Hunter marinate the tenderloin and cook it over our first fire of the season.
---
Today's Thankful November giveaway is a copy of "The Complete Venison Cookbook From Field to Table" by Jim and Ann Casada. To be entered leave a comment on this post. *Giveaway ends November 19, 2021. Jim has a great website, you can visit it here.
Tipper
Subscribe for FREE and get a daily dose of Appalachia in your inbox