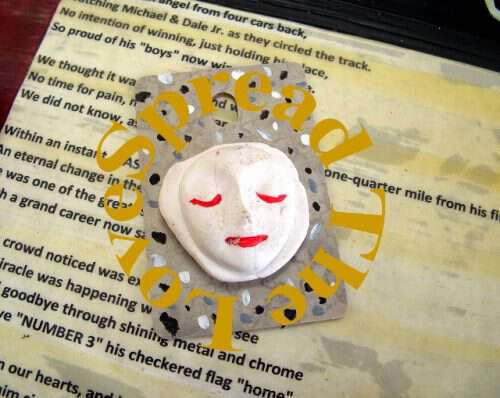 Time to Spread the Love for February. During the month all you Acorns went along with me as I talked about everything from eating owls to why Brasstown is famous. Along the way you helped pull Pap across the hospital line. I'm sending a great big Thank you to everyone who commented during the month of February-your words of wisdom really do make the Blind Pig a better place to visit!
Janet, Just Jackie, Julie at Elisharose, Miss Cindy, Brenda Kay Ledford, Osagebluff Quilter, Terry, Warren, Lanny, The Fishing Guy, Petra Michelle, David Templeton, Nancy M., Glenda, Fencepost, Rick's Whitetail Woods, Mary Life In A Cordwood Cabin, Farmchick, Paul Saltcreek, B. Ruth, Vicki Lane, Eva Nell Mull Wike, Ph.D., Sarah, Wanda, Stacey South Western PA, Lynn Legge, Pat in East TN, Jen,  Sandra, Granny Sue, Sheryl Paul, Kenneth M. Roper, Anastasia, Mike McLain, Rachelle, Greta Koehel , Nancy Wigmore, Nancy Simpson, Kenneth O Hoffman, Mamabug, Kat, Lonnie Dockery, Canned Quilter, Kathryn Magendie, Jim Casada, Rhonda Haslam, Don Casada, Charline, Vera Guthrie, Garland Davis, Dilli, Larry Proffitt, Granny Pam , Bradley, Elizabeth K, Uncle Al, Dee from TN, Misty, Trisha Too, Kay, SharonD, Uncle Dave, Rooney Floyd, Martina, Paul Certo, Teresa, Susan, Cheryl Soehl, Patty Hall, Tom, Rachel Sliding Through Life, Luann Sewell Waters, Ethel, Em, Sheila Bergeron, J.E., My Carolina Kitchen, Clint, Audrey, D, Anne, BasketsbyRose, Dolores Barton, Jennifer In OR, Nancy, Melissa P Misplaced Southerner, Wanda, Judy, Yolanda, Barbara Gantt, Jan, Grannis Little Corner, Amy Jo Phillips, Amy, KGL, Bill Dotson, Meemsnyc, Donna W, Shane Moad, Shirley Metts, Betty Blevins, Jerry McKelvy, Sandy Carlson, Linda, Sallie C, Shirley Owens, Janet Pressley, Elithea, PinnacleCreek, Paula Rhodarmer, Phyllis Salmons, Gary Powell, Rhonda-ravelly, Laoi Gaul-Williams, Vickie, Nancy A Rural Journal , Ron Corley, Judith, Catharine, PattyT, Suzi Phillips, Kim Campbell , Debby Brown, RB, Pointless Picks, Marie, Dale Anderson, Susan L, Jo, Sandra Sarafian, Nina Chastain, PeggyP, Helen G, Rechelle Brown, Jill Wilson, Lise, Reb R, Colleen, John Dilbeck, Yvonne-The Mashburn Collection , Farmchick Paula , Betty Patton, Caro, Betty, Fred Tarr, Victor Crisen, Lynn Turner, Sharon , Benny Terry, Susie, Janice MacDaniels , Penny, Margaret, Jo Reece-Flowers, Mike and Kansas, Luke Sherman, Deborah, Debora Kerr, Ruth Himan, Jay Fruet, Sandi, Cee, Eris, Angela Peevy , Frances Masuda, Carol Markey, Gary, Ed, Tammy, Hummer , Judith Alef, AC, Eddie, Becky, Jenny-Jenny , John Trout, Gary Greene, and Bob.
Don't forget to click on a commenter's name above and go for a visit I know you'll be glad you did.
Tipper