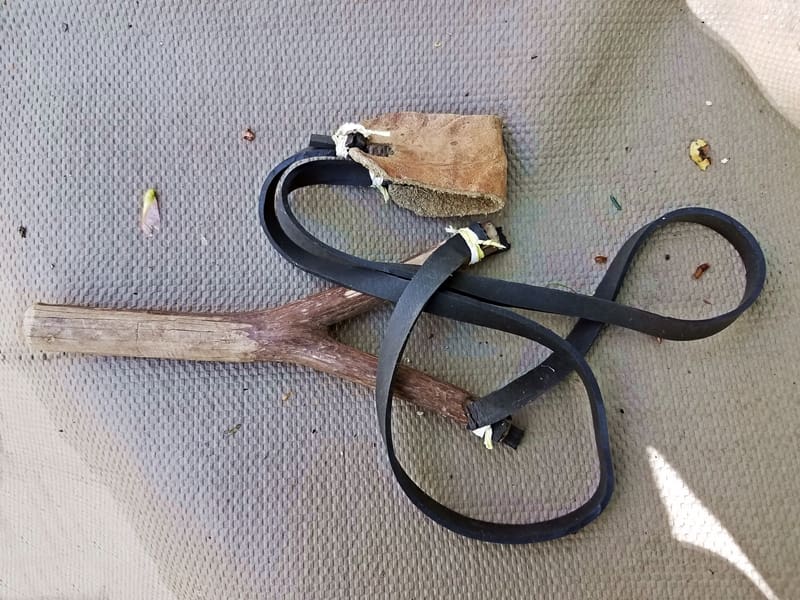 I remember Pap making slingshots when we were kids. I tried once or twice to use one, but couldn't master the technique of shooting one, probably because I wasn't very interested in trying 🙂 Over the years Pap made quite a few. Paul said he used Laurel most of the time (what we call Laurel is actually Rhododendron).
Paul became quite good with a slingshot. He could mostly hit whatever he wanted from a pretty good distance away. He said the ones Pap made were a hundred times better than store bought ones. They shot harder and were easier to use because they were made with real rubber.
When I told Paul about this post and shared the video below with him this is what he said:
It's amazing how accurate you can get with a slingshot when there are no sights and you don't aim it. It's sort of like pitching a baseball or a cowboy shooter who shoots with the gun down by his hip, just a muscle memory thing. I saw a local news spot on TV back when we still watched WLOS and the Knoxville Channel. It showed two old men who made them in their barn, and they each shot Coke cans off each other's heads. Although it was short distance, I would never have tried that! As good as I got with one, I can only imagine what Pap, Harold Kernea (one of Pap's closest childhood friends), and guys like that would have been like back in the day when they used them constantly. It's all about the rubber, and the way it's shaped. Store bought ones are no good because it isn't real rubber and it's formed as a tube that resists against itself as the pad holding the rock goes forward. The flat, strap-like way of cutting the rubber (like the man in the video uses) doesn't have that resistance against itself. Pap had one inner tube of real rubber left that he was saving in the basement. It was placed up in the floor joist, held up by the X bracing. Sadly, Steve thought it was just there to start fires and burned it. From then on, we didn't have any good slingshots because they always break eventually and you have to put on new rubber."
Somewhere along the way The Deer Hunter bought the girls slingshots. I remember Chitter shooting marbles off the porch and trying her best to hit birds, I don't think she ever managed to hit one.
A week or so ago a dear friend sent me this video.
Man could he shoot a slingshot or what! I hope you enjoyed the video.
Tipper
Subscribe for FREE and get a daily dose of Appalachia in your inbox