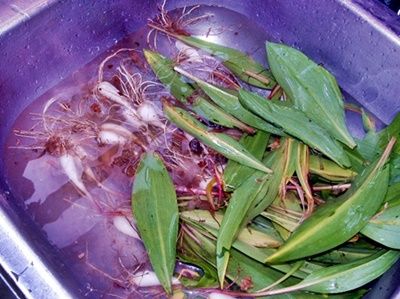 "A Mess of Ramps—Kimsey Creek" by John Parris
Burton Bumgarner will tell you, with the faith of a true believer, that ramps are the best thing in the world for warding off a cold.
"If you'll eat 'em along through the winter," he said, "you'll never have a cold. That's always been my experience. My wife's, too.
Last winter, when just about everybody we know come down with a cold or the flu, we wasn't bothered at all. We might have sneezed a time or two, but that was all. We ate ramps winterlong. Had twenty-two messes."
Every year about this  time, when the stinkingest vegetable known to man gets ripe and tender, Bumgarner gets out his mattock and four sack and heads back into the high, cool hills to dig ramps.
His favorite spot is here in the wild and rugged Nantahala Mountains whose rich, damp covers produce ramps by the thousands. He calls it "a ramp-digger's heaven".
And this week found him here with his mattock and flower sack. "I always dig enough ramps to tide me over the winter," he said. "We put'em in plastic bags or jars and keep 'em in the freezer. They're as tender as if they just come out of the patch."
He paused, straightened up from his digging, and let his eyes walk trough the ramp filled cove.
"I love to go to the ramp patch better than anybody I know," he said. "I've been digging e'm since I was big enough to lift a mattock. I reckon I was no more than 10 years old when I dug my first ones. I'm now 64 and a few months. "
—-
It's been a good long while since The Deer Hunter dug any ramps. Papaw Tony usually gives us some and like Bumgarner we store them in a jar in the freezer until we're ready to cook them up in a big pan of fried taters.
Tipper
Subscribe for FREE and get a daily dose of Appalachia in your inbox