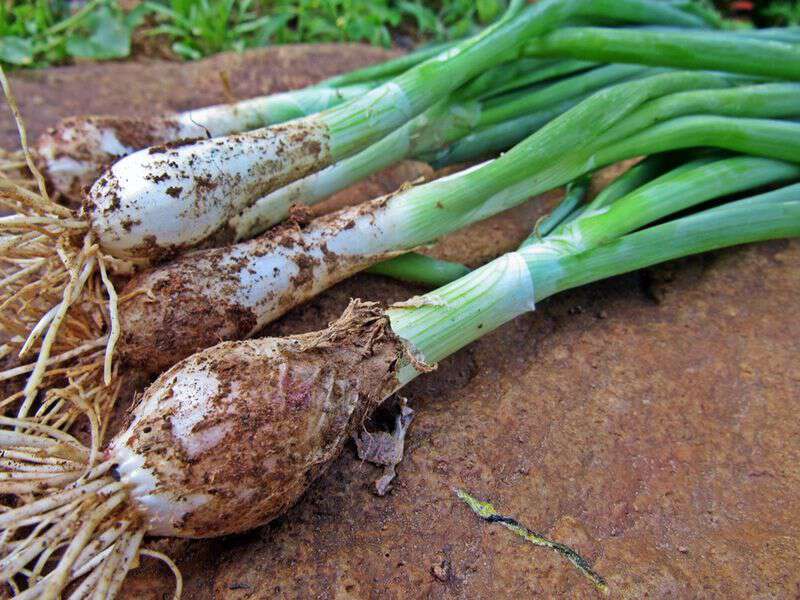 Is there anything better than a green onion straight out of the garden?
This time of the year green onions straight from the garden are hard to beat. We've been eating them diced up in a mess of kilt lettuce and as an accompaniment to practically every supper we eat.
Like Granny and Pap, I like to sprinkle out a little pile of salt in my plate and dip my onion it before each bite.
A friend once told me her daddy was so crazy about green onions that he kept a spare salt shaker in the barn so he could partake of fresh onions from the garden whenever he got a hankering for one.
The Dictionary of Smoky Mountain English has an interesting entry for green onions.
Jacob's onion noun A green onion.
1975 Purkey Madison Co 53-54 A variety of vegetables grew in long neat rows; tender green onions (called Jacob's onions), peas, beets, carrots, radishes, lettuce, beans, parsnips, tomatoes, cucumbers, and sweet and Irish potatoes. Ibid. 106 I will never forget the endless bundles of crisp spring onions with their long white heads and slender green blades, which my mother prepared for market. Mama called them "Jacob's Onions." I don't' know why unless it was because they were so prolific.
Dictionary of Smoky Mountain English
I've never heard green onions called Jacob's onions, have you?
Tipper
Subscribe for FREE and get a daily dose of Appalachia in your inbox