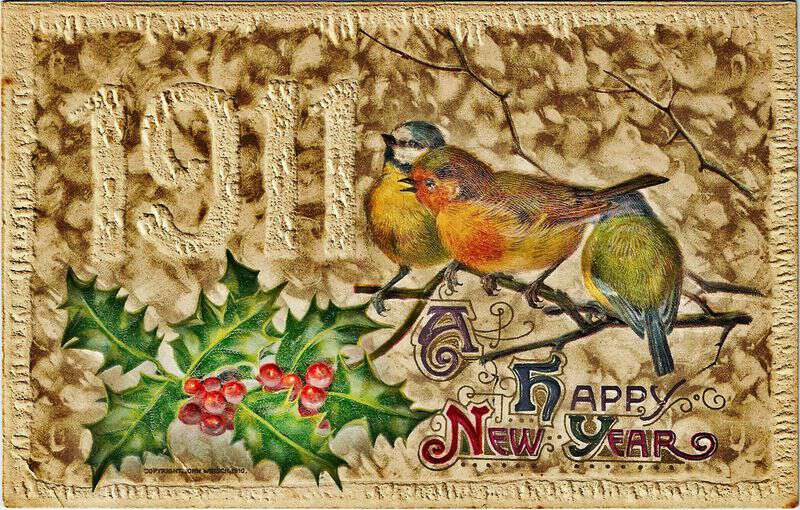 We're not big on New Year's traditions here at the Blind Pig house, but over the years I've researched common New Year's traditions from the area and written about them. If I had to point to one tradition I have followed fairly consistently it would be my annual blog post about my favorite posts from the previous year. I hope to share that post one day next week.
As I looked back through the archive section of Blind Pig and the Acorn I found several interesting traditions that readers have shared.
Sheila: My friend said her mother used to sweep the kitchen floor on New Year's Day, scoop up about a teaspoon of the 'dirt', tie it up in a small piece of cloth, then put it away in a kitchen drawer. She said it would ensure that you would have money all year. We wonder if anyone else has heard of this New Year's Day tradition? We're from Southeast Tennessee.
Pamela Danner: Happy New Year to you all! We always have black-eyed peas, greens cornbread, meat, and I can remember my Mom saying something about blackberries (we have cobbler).
Dee: As far back as I can remember, we ate black eyed peas, greens, with fatback and of course, cornbread on New Year's day. I plan on doing the same tomorrow. Plus, I love black eyed peas and greens. My husband's father, of Irish and English ethnicity, grew up in Chicago and they always fired their shotguns up into the air at midnight. It seems like I remember "Watch Services" mentioned way back in my grandmother's day but it is a faint memory.
Emily: In East Texas we burned onion skins in the fireplace and eat black-eyed peas for good luck. Even today (Austin, TX) in some neighborhoods rifles are fired into the air at midnight. From Mexican friends I learned of the custom (originated in Spain) of eating twelve grapes at midnight for good luck in each of the coming twelve months. That custom seems to be taking hold in Texas.
TimMc: Growing up, the meal of Black-eyed peas, Hog jawl, greens and cornbread was a every year tradition, Mama seen to it.. And it was suppose to make you healthy, wealthy and wise.. Well, I got one of the three, (healthy) and still waitin on the other two, and I hope it's soon because I'm running out of time..
Bob: In my younger years, an old flame, she was a country gal, used to say, "What ever you are doing at Midnight on New Years Eve, is what you'll be doing ALL Year!". Here in southeast TN and north GA, we do the greens, and black eyed peas, so we can have some folding money, and some change.
Jim Casada: Some other New Year's-connected traditions include:
(1) Anvil jumping (using gunpowder to "shoot" an anvil skyward
(2) Firing blackpowder guns into the air
(3) Turning the Yule log, which was supposed to last until the celebration of Old Christmas
Happy New Year's.
Janet Smart: We have the tradition here in West Virginia of eating cabbage on New Years Day. The stores always have an abundance of it and usually put it on sale. Mom would put silver (such as a silver dime) in the bowl of cabbage. The person who scooped out the dime with their cabbage would be prosperous in the coming new year, Grandma always made sure the first one to set foot in her house on New Years was a male. And, I always attended Watch Services at church when I was growing up.
I hope you enjoyed learning more about the various New Year's traditions and I hope you'll leave a comment and share any others you might know.
---
Last night's video: Traditional New Year's Meal in Appalachia | Black Eyed Peas, Mustard Greens, Pork, Cornbread.
Tipper
Subscribe for FREE and get a daily dose of Appalachia in your inbox