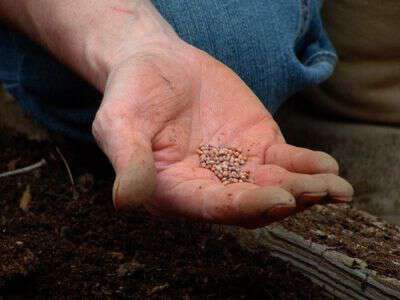 My spring garden is in it's full glory-I've got leafy lettuce and spinach; round red radishes, and green onions galore. My cabbage is coming along nicely-but my sugar snap peas aren't as big as they should be-between the busyness of life and my determination to plant by the signs-I didn't get them planted as early as I should have.
My lettuce, spinach and radishes are the best I've ever grown. Is it cause I planted them by the signs? I think so-yet there are 2 other possibilities: Could it be I had better seeds to start with-since Hometown Seeds sponsored my garden this year? Could it be that we added a load of mushroom compost to the garden? What do you think?
One thing I do know-there is no better eating than when you can walk outside and gather fresh veggies from your own garden. Almost everyday I walk out and pick lettuce, spinach, radishes and onions for my lunch-the only think that would make it better? If I could pick my own tomato too-still too early for that here. (in case you're wondering-that is barbwire you see in the pic-the latest treasure found by Chitter in the woods)
Now that I've shared the progress of my spring garden-I hope you'll leave me a comment and tell me about yours.
Tipper