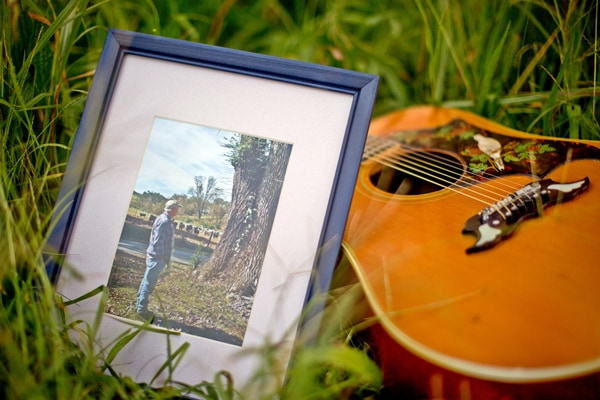 Pap would have been 83 years old to day.
I've had him on my mind a lot lately. Mostly wishing I could talk to him again.
A few years back Paul wrote a song about Pap's life called "It's a Wonder." I shared it with you here on the Blind Pig so maybe you remember it.
The song came to Paul in a dream, which somehow makes it even more special to me.
Each verse tells part of Pap's life story and the overall theme of the song is one of thankfulness.
Thankfulness that Pap lived for 78 years.
In honor of Pap's birthday I thought I'd share the story behind the verses.
---
When I think about the Hiwassee I see waters closing in on me

Its a wonder that I lived passed the age of 3

Though it may not be such a great big river was a whole lot bigger than me

When I think about the Hiwassee its a wonder that I lived passed 3
Pap was born along the Hiwassee River here in Cherokee County on the Harshaw Farm. His parents were sharecroppers. With few roads in those days the family needed to cross the river before they could walk into Murphy. The tale goes that they were paddling across the river when Pap suddenly jumped in, quickly going out of sight in the murky depths. His mother instantly took off after him leaving Papaw Wade to follow behind her in a flash because he knew she couldn't swim either. I'm sure the incident was more than stressful for the little family, but over the years the tale took on an almost legendary status as they laughed about the boy who jumped in the river.
By the time they left the banks of the Hiwassee for other locals Pap could swim like the fish he and his mother often caught from the banks.
Caracas, Venezuela, Beirut times when the cold war got hot

I think about Malaria and jungle rot

We had to leave our brothers behind and come home across the sea

When I think about all the countries its a wonder I lived passed 19
When the draft card came calling Pap was working in Ohio. He came home to Brasstown and packed up his stuff to enlist.
Arriving with all the other draftees Pap didn't hardly know what to expect. At least he had spent some time away from home so maybe that was a leg up so to speak on some of the other young men.
They were all in a large hall when a sharp dressed man entered and spoke to the soldier in charge. He said he needed three men for the Marines. A little back and forth between the two resulted in the decision to take the first in alphabetical order, the last, and one in between. With Pap's name being Wilson he was the one chosen from the end. That's how he became a Marine.
Pap suffered from Malaria while in service and it randomly came back on him for the rest of his life. He never complained about it, he just dealt with the episodes knowing they wouldn't last long and that none of them would ever be as bad as the first sickness when he woke up on a Naval ship at sea.
During Pap's last days he talked often of those brothers they left behind. He never forgot them.
When I think about all the fuel I hauled over the mountains so steep

Its a wonder that I lived passed 33

Enough to burn this county down leave nary a bush nor tree

When I think about all the fuel Lord its a wonder I lived passed 33
Pap spent many years as trucker hauling all sorts of things, but most of his time was spent hauling fuel on long hauls. Over the years he shared some of his experiences with us many of which made me cringe. Like the time he came off Blood Mountain with so much snow on the road that he drove with the door open so he could jump out if he lost control of the rig.
When I think about that time they split me apart reached inside working round my heart

Its a wonder that I lived passed 41

They always said that my heart was strong now I know its not the only one

Its a wonder that I lived passed 41
In the late 70s and early 80s Pap started suffering from an aliment that pretty much stopped him in his tracks. He was young, healthy, and strong with no obvious signs of disease. Pap and Granny visited doctors all over the place trying to find out what was going on. The general consensus was he had ulcers. Finally Pap was sent to a doctor in Gainesville GA who said he thought it was a heart blockage. He said he had an easy way to know for sure. He gave Pap a handful of nitroglycerin pills and told him to take one the next time he felt the pain and sickness and if the pill stopped it that was a clear sign he had heart disease.
The pill instantly stopped the pain. A short time later Pap was admitted to Crawford & Long in Atlanta GA for a triple by-pass. I was in 5th grade. At that time Pap was one of a handful of people in our general area that had undergone bypass surgery. He was sort of like a guinea pig and a hero all at the same time for surviving.
I remember Papaw Wade stayed with us a few days to help once he got home from the hospital. I'm not sure he needed to though, in 6 weeks Pap was back at work feeling like a new man. The by-passes cured him for a good 25 years.
When I think of how hard I pushed my heart worked from heights so easy to fall

Its a wonder that I lived passed 65

So many buildings they still stand though their builder has gone to another land

Its a wonder that I lived passed 65
By the time Pap was 65 he had retired from truck driving. He was beginning to show signs of heart trouble again, but not enough to keep him from working.
Pap and The Deer Hunter worked together building houses. Pap had the knowledge from building his and Granny's house, several other houses in the community and even the church.
In those days The Deer Hunter would tell me "Your Daddy can work circles around me and he's 65 years old."
Pap would get on the roof and The Deer Hunter would throw sheets of plywood up for him to pound into place.
On one house Pap was working on the trusses when he slipped. He grabbed a hold of a truss to catch himself and it broke. He fell all the way to the bottom floor miraculously landing on his feet with the broke truss still in his hand. The Deer Hunter said he about fainted from fright.
When I think about that time I had no help so I had to help myself

Its a wonder that I lived passed 75

There I was all alone down on the floor with broken bone

Its a wonder that I lived passed 75
By the time Pap was 75 he was retired from all work. His angina pain pretty much kept him confined to doing easy tasks. He donated his time to cleaning the fellowship hall at church.
One day he was just finishing up with mopping and as he turned around he slipped on the wet floor and fell. He broke his hip and there was no one there to help him. He didn't have a cell phone so that wasn't an option either. Somehow he used his leg as a crutch and drug himself to his car. He manage to drive about halfway home to where Miss Cindy lives. He was afraid he was going to pass out from the pain so he pulled into a lot near her house.
As he sat there he prayed "Lord you're either going to have to take me out of this world or send somebody to help. I can't take this suffering any longer."
Kenny Phillips, a long time friend of Pap's, pulled into the lot. Once he realized it was Pap in the car he came over to talk. Pap made him go get Miss Cindy and somehow she got him home and somehow her and Granny got him inside the house. I'll never know how they did it.
A few hours later at the hospital we discovered along with the broken hip Pap had suffered a heart attack.
Pap lived and went on to totally recover from the broken hip without surgery. The doctor who released him a few weeks later said "I've never seen anything like this. You are totally healed. Old people like me and you aren't supposed to mend like this."
The Lord of Love was with me through all I said and did do

Friend let me ask is he with you?

Never blame God for the wrong we all do nor the trouble it brings

Don't blame him for the fool or the feeble song he sings

If God isn't real when you close your eyes you have nothing to win

But if he's real your eyes will open again, again

Look to creation study his word and the truth you will see

What a wonder I'll live eternally

The greatest wonder I'll live eternally




Click on the player above to hear the song "It's a Wonder."
---
Pap was a man of great faith. He never pushed his faith on anyone, but lead his life as an example of it.
At his funeral a long time friend of the family told me "Your Daddy was an encourager. He always had an encouraging word for anyone he came in contact with."
I miss Pap, but I'm beyond thankful he lived on this earth for 78 years to be an influence in my life, my children's lives, and an influence on many many other lives.
Tipper
Subscribe for FREE and get a daily dose of Appalachia in your inbox