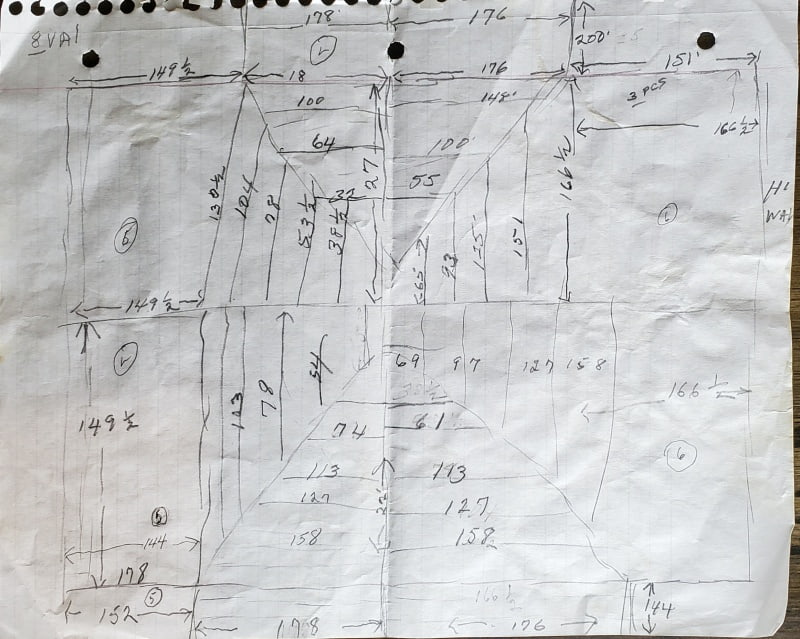 Every year since Pap died Granny always tells me Christmas would be just perfect if only he was still here.
A week or so ago she said "Even with all the stuff going on in the world I'm thankful we're all okay and Christmas is here. The only thing that would make it better is if your Daddy was here too."
Holidays always make folks think of their loved ones who've gone on.
I've been listening to Pap and Paul's Christmas songs since the first of November, but truthfully the last few months at work have been so busy that I've barely had time to sit and think about anything much, including missing Pap.
Ever since Granny said she was wishing he was here Pap's been on my mind. I dreamed about him one night, but it was only something silly and he was barely in the dream.
Yesterday I walked down to Granny's to get her grocery list and she gave me the piece of paper at the top of this post. She said "Look I found this and it's your Daddy's handwriting I want you to ask Matt if he knows what it is. I think it might be the fellowship hall they built."
I took it home and showed The Deer Hunter. He said "No it's not the fellowship hall its a hip roof we built on a house one time. I think he drew it out to show me how it went because I'd never built a hip roof before."
I love all the Christmas songs Pap and Paul did over the years and I savor listening to them at Christmastime. I relish each and every note like it was a fine ripe tomato or ear of corn straight from the garden.
One of my favorites is "We Three Kings of Orient Are." When you think of all the Christmas plays that use the song you can clearly see its a favorite of others too.
John Henry Hopkins Jr. was an ordained priest of the Episcopal Church who preferred writing to preaching. He worked for a New York newspaper as a writer and as a scribe for a church journal.
In 1857 while trying to decide what Epiphany gifts to buy for his nieces and nephews, Hopkins decided to write them a song. He chose the wise men as the subject for his gift of song. As Hopkins wrote the words he tried to imagine what the wise men must have felt as they searched for the Christ Child.
After giving the song to his nieces and nephews, Hopkins published it in his own song book, "Carols, Hymns, and Songs." During the next century when churches began to add Christmas songs to their hymnals it was among the first carols chosen ensuring "We Three Kings Of Orient Are" would become one of the most popular Christmas songs of all time.
While I was researching the history of the song, I kept coming across the tidbit that Hopkins was crazy about children even though he never had any of his own. Many scholars claimed it was Hopkins's child like love for the Christmas season which inspired him to write the song. I think Hopkins would be pleased as punch that each Christmas children dress in bathrobes with towels tied around their heads and pretend to search for the Christ child to the sound of his song.
Seeing Pap's handwriting left me feeling melancholy, yet thinking of the sturdy things he left behind, like the hip roof that now covers a family and the knowledge he passed on to The Deer Hunter and the rest of us made me feel better and even hopeful as we start this week of Christmas 2020.
Tipper
Subscribe for FREE and get a daily dose of Appalachia in your inbox
*Source: Collins, Ace. Stories behind the best-loved songs of Christmas. Grand Rapids, Mich.: Zondervan, 2001. Print.