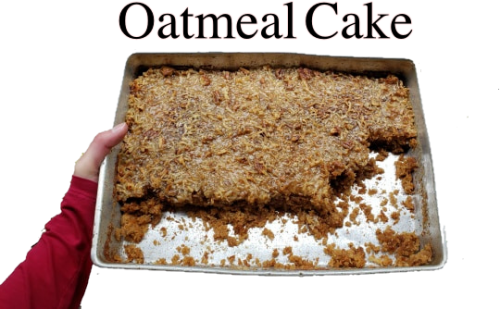 You all know I've had Kenneth Roper on my mind a lot lately. My last update was that he is still improving and will hopefully be in a room where he can receive phone calls soon.
Over the weekend I decided to make Ken's favorite cake. Here's what he told me about the cake when he shared the recipe with me.
"When I was about 18 or 19 I worked with David Solesbee at American Thread for a couple of years. At our dinner break, David would have this wonderful cake made by his wife Shelvagine. She sent me a piece of this Oatmeal Cake and I really liked it. So a couple years ago, I called her and asked if she'd give me the recipe. She said "Lordy, I don't know if I can remember what I did 48 years ago"…but she did."
OATMEAL CAKE by Shelvagine Solesbee
Pour 1 1/2 cups boiling water over 1 cup Oatmeal (I used quick oats) and salt as if it were to be cooked.
Let stand while mixing the following.
1 1/3 cups self-rising flour
1 cup granulated sugar
1 cup brown sugar
1/2 cup shortening
1 1/2 teaspoon vanilla
1/2 teaspoon nutmeg
1/2 teaspoon cinnamon
2 eggs
1/2 teaspoon soda
Mix all ingredients together and add oatmeal. Mix all together, then pour into a 9 x 13 pan. Bake at 350 about 25 or 30 minutes or till done.
TOPPING MIX
1 stick of margarine or butter
1 cup brown sugar
2 tablespoons sweet milk
1 cup or 1 can of coconut
1/2 cup pecans or you can use a small can of crushed pineapples
Melt butter and mix all topping ingredients together, adding nuts or pineapples. Pour over cake and put under broiler in oven till top is brown. Watch real close cause it burns real easily.
If you give Ken's favorite cake a try, I know you'll be glad you did—it's very tasty and perfect for this time of the year.
Tipper
Subscribe for FREE and get a daily dose of Appalachia in your inbox