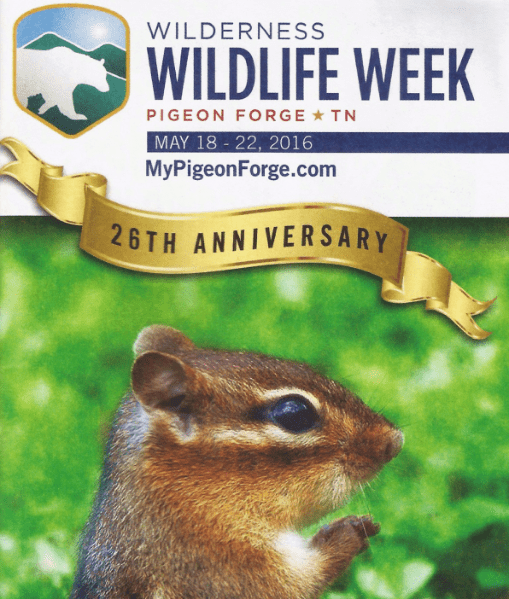 Today I'm sharing an interview with another fascinating person I met at the Wilderness Wildlife Week back in May.
Pigeon Forge has hosted Wilderness Wildlife Week for the last 25 years as a tribute to the Great Smoky Mountains National Park and its heritage. There are tons of presentations and workshops offered during the week-all FREE to the public.
It's a great event for people who are interested in anything related to the Smoky Mountain National Park as well as the general area of East TN and Western NC.  The Deer Hunter and I thoroughly enjoyed ourselves and hope to attend the event again. If you want to plan ahead-next year Wilderness Wildlife Week will be held May 9 – 13.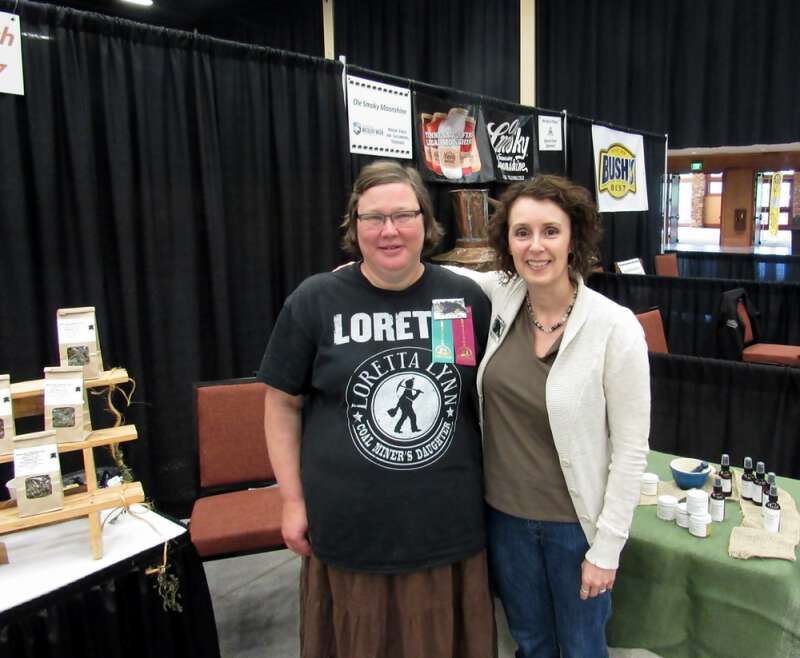 Crystal and Tipper May 2016
If you've been reading the Blind Pig and The Acorn for a while you'll remember Chatter has become very interested in herbal medicine and natural beauty products over the last year.
As I flipped through the brochure for the week and read the description for Crystal Wilson's presentation I told The Deer Hunter "We have to go to that one, Chatter would be mad if we didn't check it out for her. And the lady's a Wilson so hey I know she'll be good."
From the moment Crystal started talking I knew we'd picked the right session to attend. The Deer Hunter and I both immediately felt a connection to her. It was just like listening to someone sit on our front porch and talk to us about every day things.
I was so impressed and pleased that Crystal didn't try to hide her use of our colorful Appalachian language. If someone didn't understand what she meant, she explained it in a patient kind manner and then continued on with her teaching.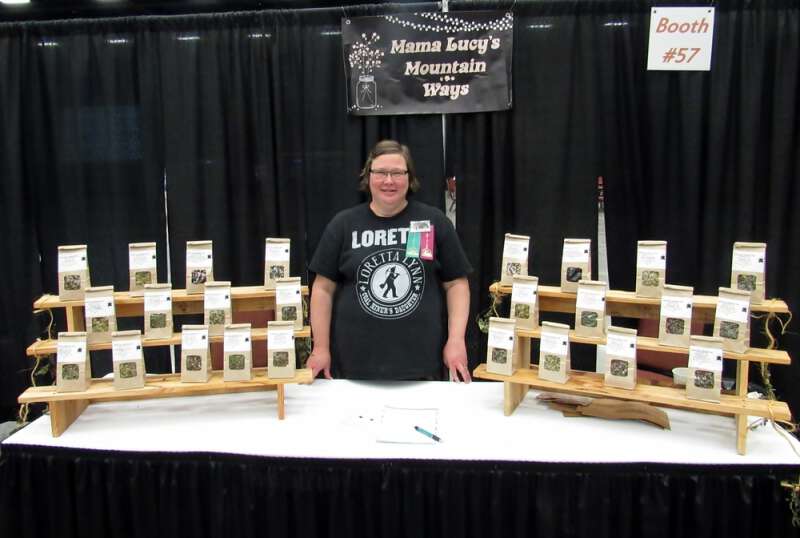 Check out the interview I did with Crystal.
——————————
Where are you from?
I grew up in Southwest Virginia. For the last 21 years, we have lived on our mountain homestead in the foothills of the Smokies.
Does your family have a long history in Appalachia?
I am a seventh generation Appalachian. Both my Mommy's people and my Daddy's came from the old country and pretty much stayed here.
How did you start using herbs to treat your family and others?
I have pretty much always used herbs. It is just what I do. Daddy taught me plants. We decided when we bought this place to grow mountain medicine and that is what we did.
I liked the explanation you gave about certain plants being white men's footprints because they were brought from over the ocean by settlers who knew about their uses and wanted to make sure they had them here. Can you explain it to my readers like you did at the event and maybe mention an example or two?
We know women brought plants with them on the ships from England and Scotland. One example of that is Plantain. That's that broad leaf "weed" in your yard. It can soothe about anything from bee stings to upset stomachs. The Cherokee called it "White Men's Foot Prints." Another plant they brought was good ole Catnip. I believe every mountain Granny has given Catnip to a colicky baby!
What other role does your farm play in your life?
Our farm/our land is everything. It is truly a labor of love. When we bought it, it was a mess to say the least. There were no song birds, native plants, or barely any topsoil. All that has changed. Those things have returned. Now it grows food for my family and medicine for the community.
I know you sell herbs do you also sell produce or is that primarily for your family's consumption?
No we do not sell produce. We try to grow and put by as much as we can for our family.
Since you've been growing herbs for medicinal purposes have you noticed an increase in awareness or desire for a natural way to heal or aid in curing sickness?
When we started 20 years ago, there wasn't a whole lot of interest in going back to the old ways of using herbs. The last little bit, folks have been more interested. You know everything old is new again? LOL!
Do you teach often? 
I have taught here at our place, in different places in the community, and conferences. I prefer to teach here. I like to get to know folks. I am teaching a series on vegetable gardening and one on makin your own apothecary here at our place in July.
How can folks find out about your classes?
Facebook is the best way to keep up with what we are doing:
How can folks find out more about your remedies that are available?
Most our remedies are listed on our website. My favorite thing to do is to make custom things for folks to make medicine just for them.
Can you name 5 things that come to mind when you think about the word Appalachia?
Hmm… five things when I hear the word Appalachia… home, home, home. Seriously, my home, my people, my language, my culture, my life.
——————————
I hope you enjoyed meeting Crystal, her love for Appalachia shines through her lovely voice and her smiling face as she teaches others about medicinal plants. If you live close enough to attend one of her classes I highly encourage you to do so. And if you'd like to hear her lovely voice go listen to this.
Tipper