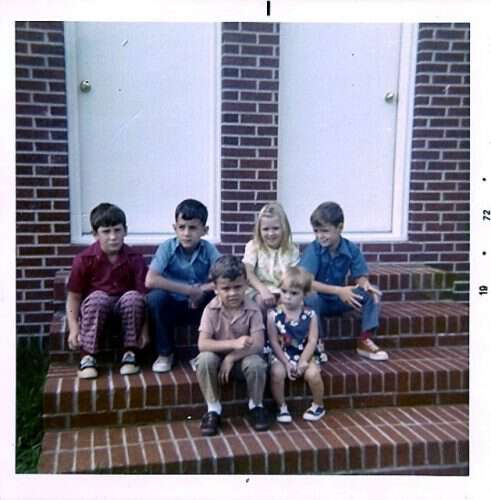 My earliest memory of Maggie's Chapel took place somewhere out in the church yard-maybe it was even on the day the picture above was taken-I'm the little girl on the lower step-my brother Steve is on the far right of the upper step. The memory isn't anything important or even exciting-just a memory of playing around outside waiting on the grownups to finish talking so we could go home.
I have other memories like: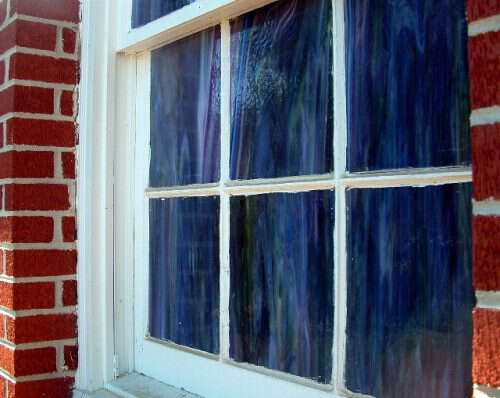 Laying in someones lap-probably Granny's-during preaching.
Being warned not to stick my arms out the windows that were held up by song books no matter how hot I was-just in case the book didn't hold.
Doing a little dance out front under the tree-after Granny gave me some hickry tea.
Other memories from the church are much more powerful.
In 1979 Marie Elliott Wilson's funeral was held at Maggie's Chapel. Marie was Pap's mother-my Mamaw. When I was in 5th grade, she died suddenly from a heart attack. She was 67 years old-she died as they (pap, his brother, and their father) took her to the hospital. Her funeral was the first time I ever saw Pap cry-big hiccuping sobs so that 2 of his cousins, grown men themselves, had to hold him up.
The first funeral of a child I ever went to was held there-a little boy who never got to grow up like my brothers and me.
My Great Grandfather (Pap's grandfather), Benjamin Wilson, is buried just outside one of the stained glass windows. Benjamin is the reason we live here-he moved his family from Madison County NC and we've been here ever since.
A few years back, I witnessed a beautiful moving wedding in Maggie's Chapel-now one from the wedding (and from the first picture in this post) lies outside the window just beyond Benjamin.
Oh but there are happy memories that far outweigh the sad. Laughter-fellowship-good food-2 girls singing up a storm-my cousin Kim beating out the songs on the old piano much like our Big Grandma used to do-people testifying of their love for God-their love for each other-and their hope for a better day to come for us all.
Come back in a few days and I'll tell you about Maggie-who started it all.
Tipper