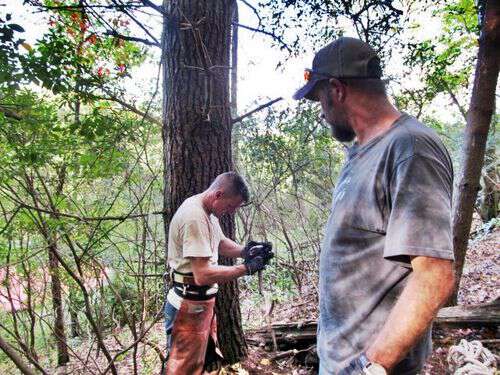 I often come across words related to logging in my Dictionary of Smoky Mountain English. Most of the time its a word I've never heard before.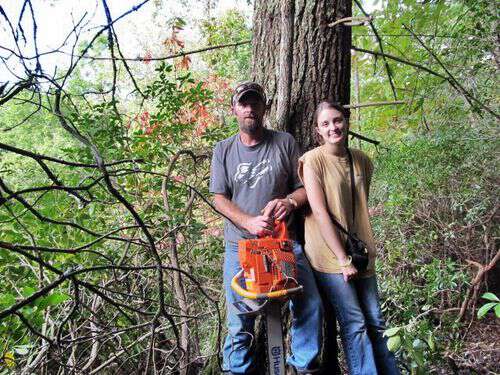 See if you're familiar with the words and their meanings.
Ballhoot: to roll or slide logs down a mountain slope to a point where they can be loaded onto a train or truck.
Barker: a member of a logging crew who peels bark in gathering tanbark.
Buttcut: the first portion cut above the stump from a felled tree.
Chipper: a member of a logging crew. "It was the responsibility of the chipper to decide the most desirable direction in which to fall the tree." Mason Memoir.
Go devil: a heavy maul used for splitting wood, usually has a hammer on one side of the head and a dull wedge on the other. (Back several years ago I used go devil in one of my Appalachian Vocabulary test. I was surprised that not many people knew the word.)
Jack loader: part of a skidder that picks up logs and loads them.
Jay hole: a level side path cut into a hillside along a skid road, into which a logger and team can safely step to avoid logs being skidded down a mountainside.
Jayho: a warning yell to give alert that logs are about to be released down the mountain.
Jimmy car house: in logging a small portable house that can be placed on a railroad car (or jimmy) and moved to a new site.
Molly Hogan: a loop of cable wire functioning as a temporary link. "They'd take a steel rail. They take a strand out of one of these big cables, just one strand. They'd roll it back in itself and they call it a Molly Hogan. This single strand would make a rope, as big as the original cable was." McCracken Logging.
Night-growing hemlock: "[A night growing hemlock] is one that just got about two logs in it and that s.o.b., before you can get a saw buried in it, hit's a-bindin'. You can drive four wedges in it and hit'll bind all the way through. It's what we'd call a scrub tree, and I don't know what they is about them, but them old timber cutters, I don't know where they ever got the name of night growing hemlock, but that's what they called'em and every once in a while, you'd hit one, it'd take a half day to cut it in two." McCracken Logging. (The Deer Hunter and Scott ran into one of these night growing-hemlock devils. They practically wrestled that tree to the ground. By the time they finished it was dark-thirty and they were so tired neither of them could eat one bite of the supper I cooked.)
Pea Vine Railroad: a short winding logging railroad, especially the one that formerly followed the Pigeon River from Newport TN to the Big Creek logging-camp near Mt. Sterling NC, used especially for hauling logs, but also having an open air car for passengers.
Road monkey: a member of a logging crew whose job is to keep roads free of debris, brush, and obstructions. Also called a Chickadee.
Sarah Parker: a small car that runs on a railroad track to pick up logs and put them inside. It was used by the Little River Timber Company in Blunt Co TN in the early 20th century. "The rig was called a "Sary Parker," says Jim. To get the Sary Parker up and across that incline bridge from the main railroad, the engineer, who was Lewis Rhea, would let the drum unwind while a crew of men took hold of the end of the big steel rope and dragged it up the bridge to a large stump on the top of the hill." Weals Sary Parker.
Skid: to drag, slide, or haul logs from the place they are cut to a a landing for them to be transported or to a mill to be sawed.
Skidder: a powered machine used to drag logs. (When I was in elementary school, my cousin who is a year younger than I am, was logging with Papaw and my uncles. He got too close to the skidder and his britches leg was grabbed by the cable. Before anyone could stop it his leg was pulled in and broken in several places. Thank goodness he healed completely. The itchy full leg cast almost drove him crazy.)
Swamper: a member of a logging crew who clears out undergrowth so that the rest of the crew can have better access to the trees.
The only words I recognize are go devil and skidder. How about you?
Tipper
*Source: Dictionary of Smoky Mountain English