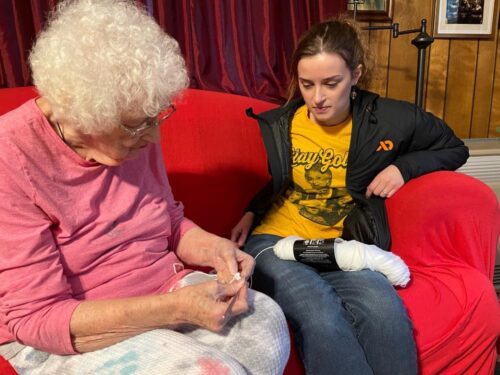 Granny teaching Chatter a new crochet stitch
We're all in and out of Granny's house. I'm still staying an entire day with her each week, but there are other reasons to stop by too.
Sometimes she needs help with something, sometimes we need to borrow something from her, and sometimes we need her help—like with a new crochet stitch.
The girls and I all tease about getting pulled in by Granny's choice of tv programming. It's almost always playing an old western show or movie. And every day at 3:00 p.m. it has The Waltons on it.
If we need to hurry on home we all tease by saying "Oh no I'm getting sucked in to the tv." 🙂
Sometimes it's nice to let yourself become immersed. I love the western shows. Seeing the horses, the outfits, and the story-line that always ties up nicely makes me feel better about life.
A while back Chitter got pulled into a Waltons episode and was introduced to a new song. It was written by Jimmie Davis, but Merle Haggard was singing it on the show.
Hope you enjoyed the old song!
Tipper
Subscribe for FREE and get a daily dose of Appalachia in your inbox