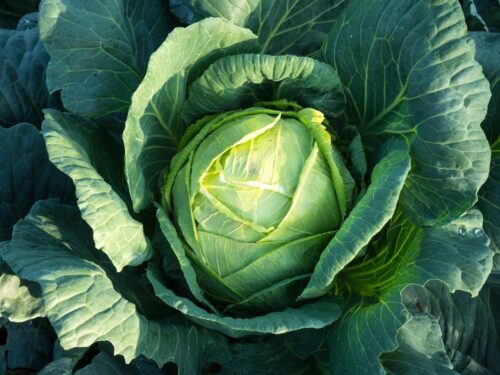 "Southern mountain folk have been growing and eating cabbages for over three centuries now, and mostly loving every minute of it. Contrary to the minstrel song that would indicate boiling was the only way of cooking cabbages, mountain people over the years have enjoyed shredding and salting them (sauerkraut), as well as frying, steaming, and stewing them, and of course, serving them raw (coleslaw).
The Jamestown colonists were cultivating and consuming cabbage as early as 1625 along with corn and beans. Like maize, cabbage was relatively easy to grow and could be easily stored for winter consumption.
The valleys and coves of the Appalachians—black rich bottomlands—are ideal for growing cabbage and other truck crops. Thus in addition to the family garden plots, you often find quite a bit of commercial cabbage acreage yet today in the foothills of north Georgia, western North Carolina, east Tennessee, and Virginia. Typical of small farmer cabbage growers is Jewell Jones in north Georgia's Cartecay community, whose farm boasts glistening green fields of cabbage every spring and summer.
Several people told me how they preserved their crop over winter by burying the cabbage heads upside down. They brought them in for eating one at at time, having to discard only an outer leaf or two. For those people who had root cellars, the cabbage could be stored alongside their potatoes and apples."
—"Smokehouse Ham, Spoon Bread & Scuppernong Wine" by Joseph E. Dabney
---
I love cabbage anyway I can get it. Pap always grew a row of cabbage and it was so good fresh and crispy from the garden. We've grown cabbage several times over the years, but last year was our most successful harvest. We only made one small change but it made such a difference.
Blind Pig reader Ed Ammons said he planted his cabbage under row cover and that it really worked well, so last year we tried row covers. The cabbage was amazing. The cover protects the growing cabbage from insects while letting in all the rain and sunshine. Our cabbage was just lovely.
If at all possible in the future I will always use row cover for my cabbages.
---
Last night's video: My Favorite Potato Soup Recipe.
Tipper
Subscribe for FREE and get a daily dose of Appalachia in your inbox