Today's post was written by Paul.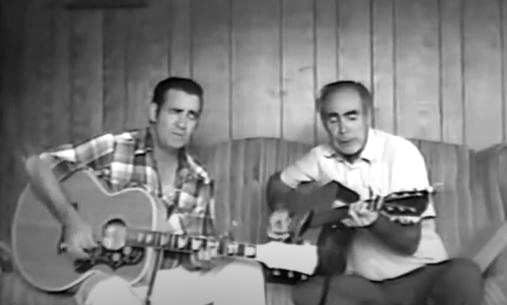 Today I'm sharing the last three songs from the Derwin Chastain VHS of the Wilson Brothers back in the 1980's.
The first song is a Jerry Wilson (Pap) original. I recently recorded that original song with help from some musicians from other countries. I'm trying to work out some kinks in the file conversions before I share my version of the song.
The second one is a hymn they later recorded for Cloudland Records in the early '90's.
The last fun tune was done for the entertainment of Ray's grandchildren who were watching from just out of frame. At the end of that song, you can see both Pap and Ray look over at them for their reaction. Adults liked this arrangement too, and Pap and Ray often performed it in churches. I was along on many of those trips, and I remember that Ray often introduced the song by comparing it to pedaling a bicycle downhill where he was in charge of one pedal and Pap was responsible for the other pedal. He said that if either one of them missed a turn of their pedal, the bike was going to wreck. 🙂 As some may remember, once upon a time, if your feet came off the pedals on a bike traveling at speed, the pedals would continue spinning or turning, making it hard to regain control of the pedals again. Somewhere along the line, the gear mechanism on bicycles was improved so that pedals just stopped turning once the rider's feet came off. Anyway, I thought that was a funny and fitting analogy.
I hope you enjoy this last offering from that VHS recording. I did some processing of the audio to boost the volume and remove some hiss. I hope YouTube's own processing doesn't fight with what I did and cause the audio to distort or surge up and down. Some problems with the sound cannot be fixed. The volume on Careless Soul is good overall, but at the song's two natural peak points ("for your life" and "unprepared to meet thy God") are smothered down a little by the automatic gain control. It's like the camera couldn't handle both voices at the same time in those places.
Though the tempo of the songs is a little slow and the video and audio quality overall leaves a lot to be desired, I think the harmony of the two voices on all three songs is very solid. That's what the music of the Wilson Brothers was all about, God and harmony. It was that harmony that earned them the NC Folk Heritage Award from the NC Arts Council in 1998.
Paul